Art Fair
Independent New York
My Epidemic
March 5 – 8, 2015
Lili Reynaud-Dewar
Independent New York, 2015
Installation view
Layr, Vienna
Lili Reynaud-Dewar
My Epidemic (Scarpa), 2015
HD video
00:04:44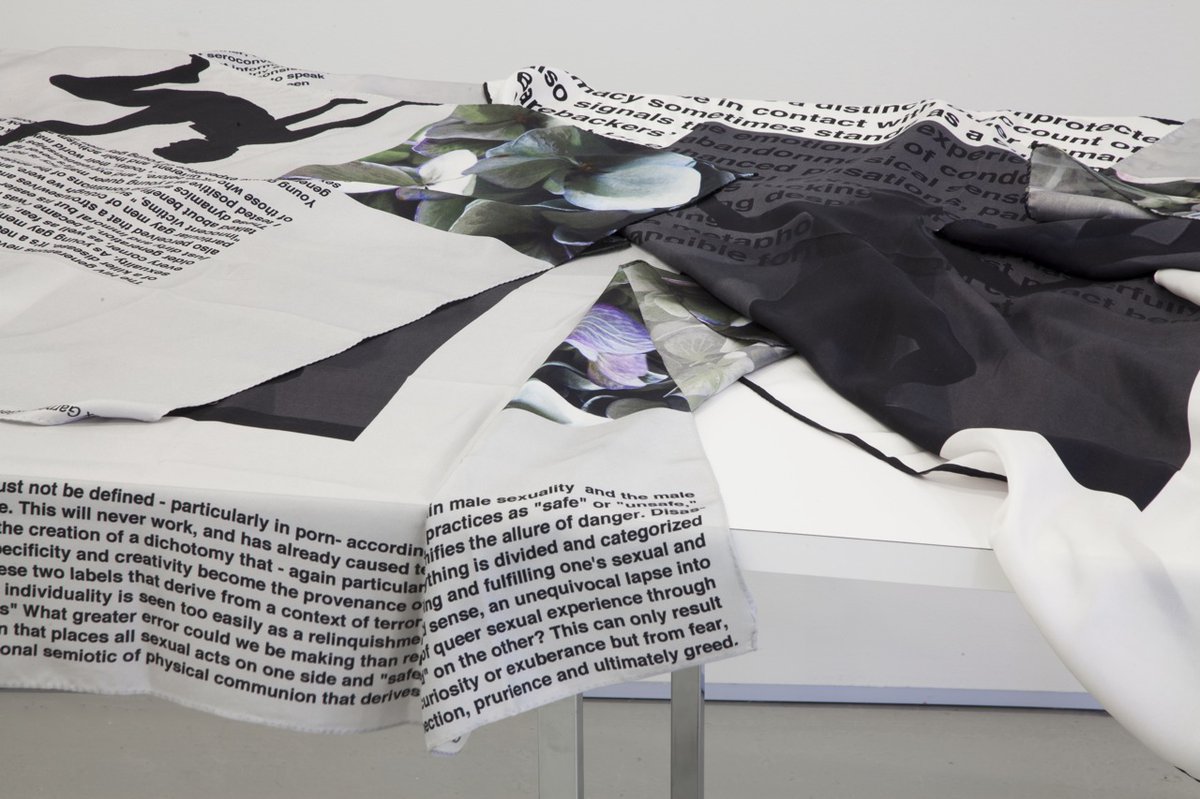 Lili Reynaud-Dewar
Independent New York, 2015
Installation view
Layr, Vienna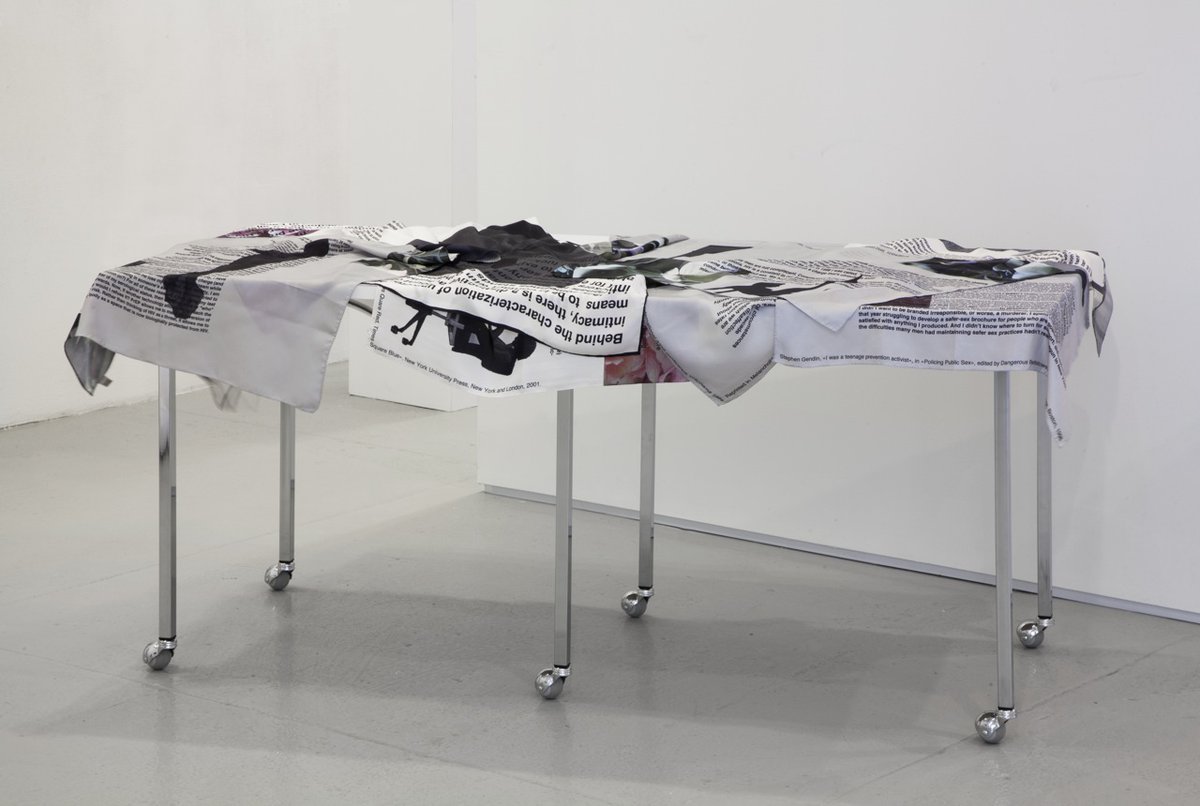 Lili Reynaud-Dewar
Independent New York, 2015
Installation view
Layr, Vienna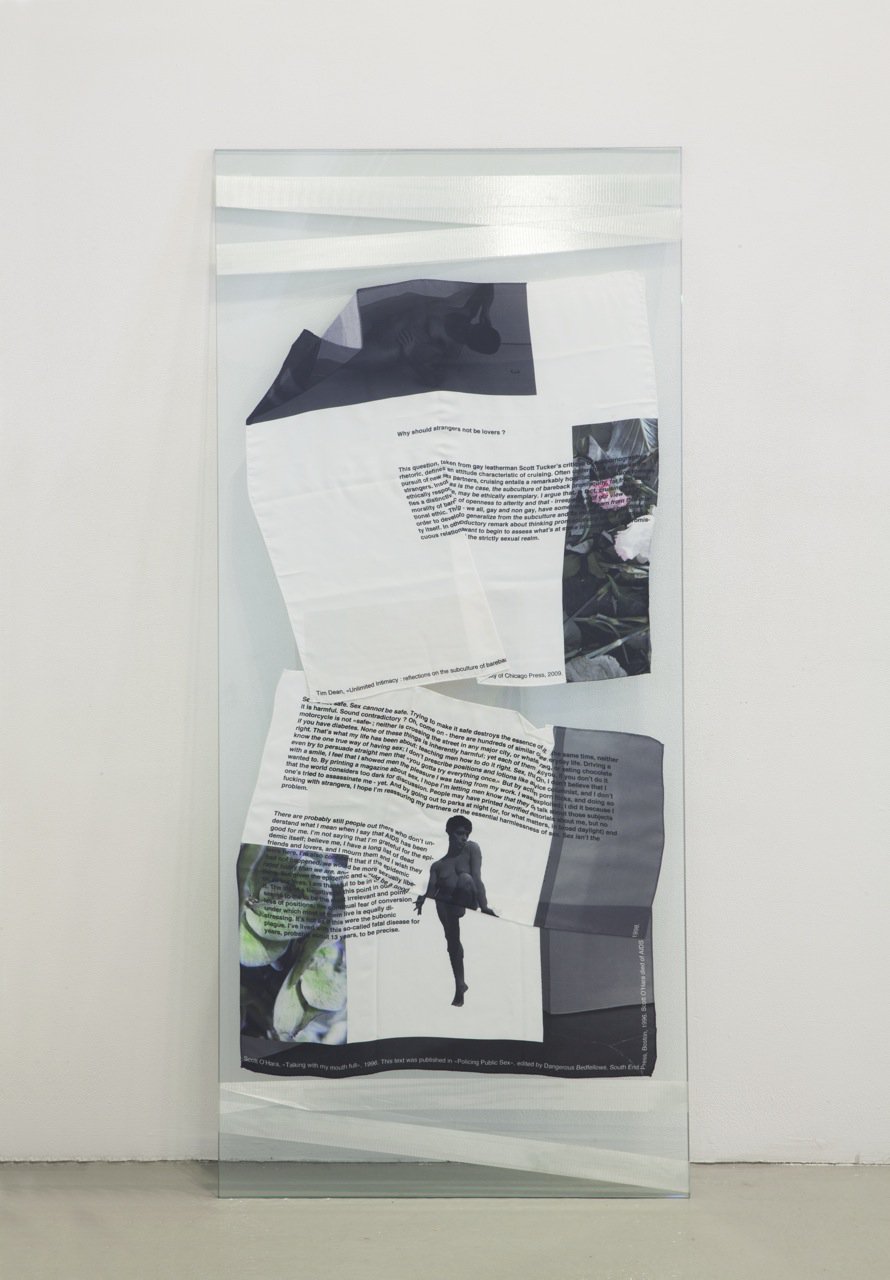 Lili Reynaud-Dewar
Untitled, 2015
Digital print on silk scarf, glass panels, duct tape
180 × 85 cm
Lili Reynaud-Dewar
Independent New York, 2015
Installation view
Layr, Vienna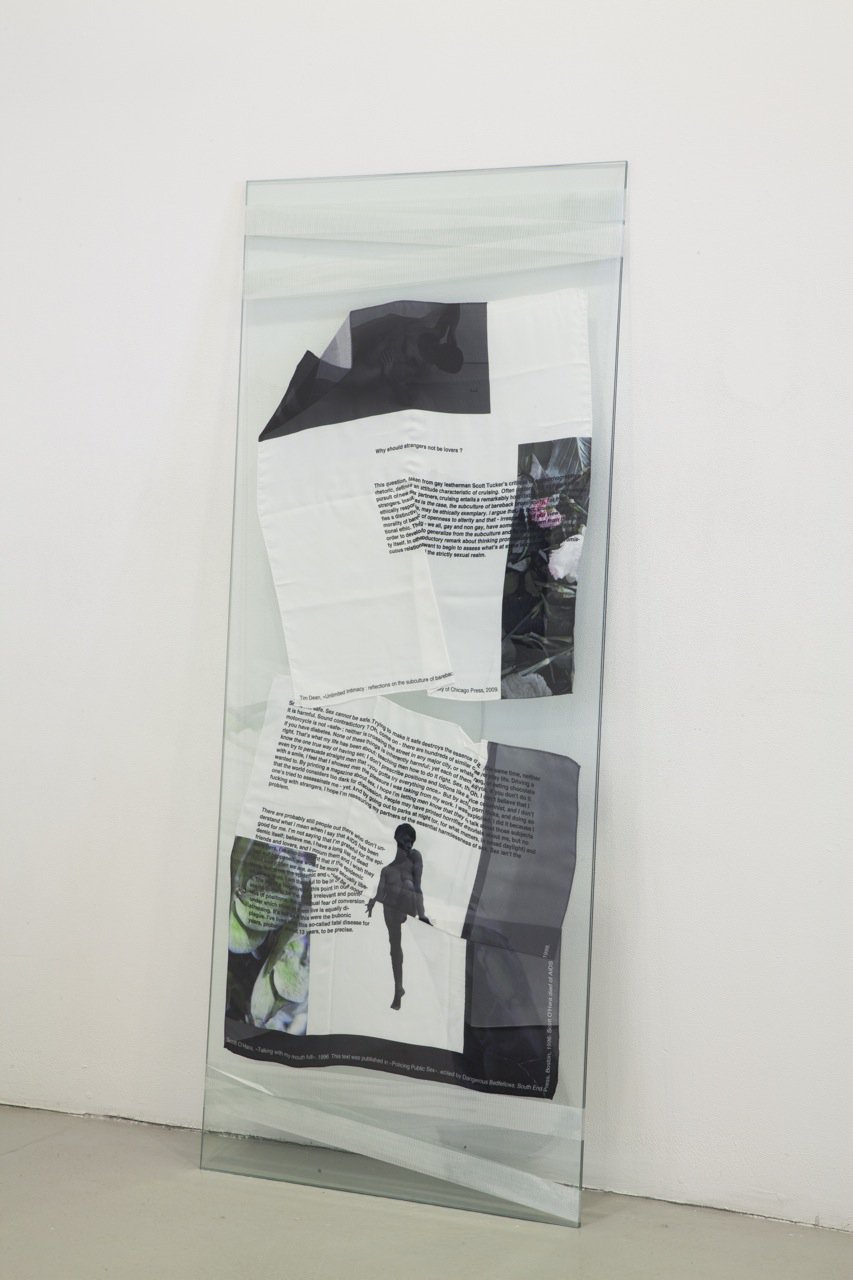 Lili Reynaud-Dewar
Untitled, 2015
Digital print on silk scarf, glass panels, duct tape
180 × 85 cm
The installation for Independent is structured like a dispersed 'reader' gathering excerpts of texts from the mid-90s to today – analysis, testimonies, manifestos – dealing with the notion of prophylaxis in the context of the AIDS epidemic. More specifically, the texts discuss questions of intimacy, vulnerability, and promiscuity for those who openly deal, or dealt with the risk of not systematically protecting themselves and their partners against the AIDS virus, but also with the risk of being rejected or criticized for this choice. Indeed, these questions have long been at the center of intense debates within the gay community and beyond. In the context of this discussion, private matters and sexuality become a matter of public debate.
Printed on silk scarves, the excerpted texts can be read and touched, and potentially worn around the neck, directly on the skin. Most of them deal with what philosopher Tim Dean has called 'unlimited intimacy,' a sexuality with no 'barriers,' physical or emotional. As they will possibly be touched by many and be passed from hand to hand, the scarves metaphorically evoke viral circulation and a multiplicity of physical relationships and sensual encounters. Silk scarves are typically a luxurious item. They are also a piece of clothing characterized by a certain fluidity that can carry messages through urban and public spaces, and are evocative of our intimate, everyday proximity with certain objects. Their function here is ambiguously set between that of a militant object and that of a precious and aestheticizing accessory, somehow nodding at the specificity of the questions raised in the texts, which touch on matters of collective responsibility and personal conceptions of pleasure and eroticism.
The scarves also incorporate photographs of flowers and some video stills showing the artist naked, her body covered with makeup of various colors, dancing, striking a pose or resting in exhibition spaces. This collage is symptomatic of Reynaud-Dewar's work, which often consists in confronting her own body and biography in relation to ones of radical figures and histories. In doing so she seeks to both challenge and evaluate the limitations of art production and her own capacity to understand radical politics and movements. Also included in the installation is a video showing the artist dancing naked in an art institution, as part of a long-term project that leads her to systematically dance wherever she is invited to do an exhibition. The videos show her addressing the 'white cube' and making herself both vulnerable and empowered by this somehow stereotypical but nevertheless critical gesture towards the institution.
The texts selected for the installation at Independent are part of a seminar Reynaud-Dewar is currently conducting with her students. This seminar is also a starting point for Small Modest Bad Blood Opera (working title), a new sculptural installation planned for the upcoming Venice Biennial, incorporating music and sung texts. The sung parts oppose one group and one individual who share their antagonistic views on the subjects of prophylaxis, responsibility, freedom, and sexuality. Recently, as part of a presentation of Petunia, the feminist publication she edits with Dorothée Dupuis and Valérie Chartrain, she gave a talk at Wiels in Brussels, entitled 'My Epidemic,' which moves between personal memories, factual data on new prophylactic techniques, and the work of French writer Guillaume Dustan. Dustan's first book In My Room was the main inspiration for the artist's recent show at New Museum Live Through That ?! and of her performance I Am Intact and I Don't Care at Frieze Projects 2013.
Lili Reynaud-Dewar's solo exhibitions and projects have been presented at New Museum, NewYork; Kamel Mennour, Paris; Index, Stockholm; and Emanuel Layr, Vienna (2014); Consortium, Dijon' CLEARING, Brooklyn; and Frieze Projects, London (2013); Luma Foundation, Arles; Karma International, Zuric;h and Magasin, Grenoble (2012); Tramway, Glasgow; and Mary Mary, Glasgow (2011); Kunsthalle Basel; and 1M3, Lausanne (2010). Her work has been featured in a number of institutions such as Centre Pompidou, Paris, Studio Museum, Harlem, Generali Foundation, Vienna, Witte de With, Rotterdam, the 12th Lyon Biennial (2013), and the 5th Berlin Biennial (2008). She is the recipient of the 15th Ricard Prize. Together with Dorothée Dupuis and Valérie Chartrain she is one of the editors and co-founders of the feminist art and entertainment magazine Petunia (begun in 2009). Upcoming projects include the Venice Biennale and a solo exhibition at Kunstverein Hamburg.