Julien Bismuth
Charles, Charles, Charles - Sors de ta réserve #4, 2023
Installation view
frac île-de-france, Les Réserves, Romainville
Photo © Martin Argyroglo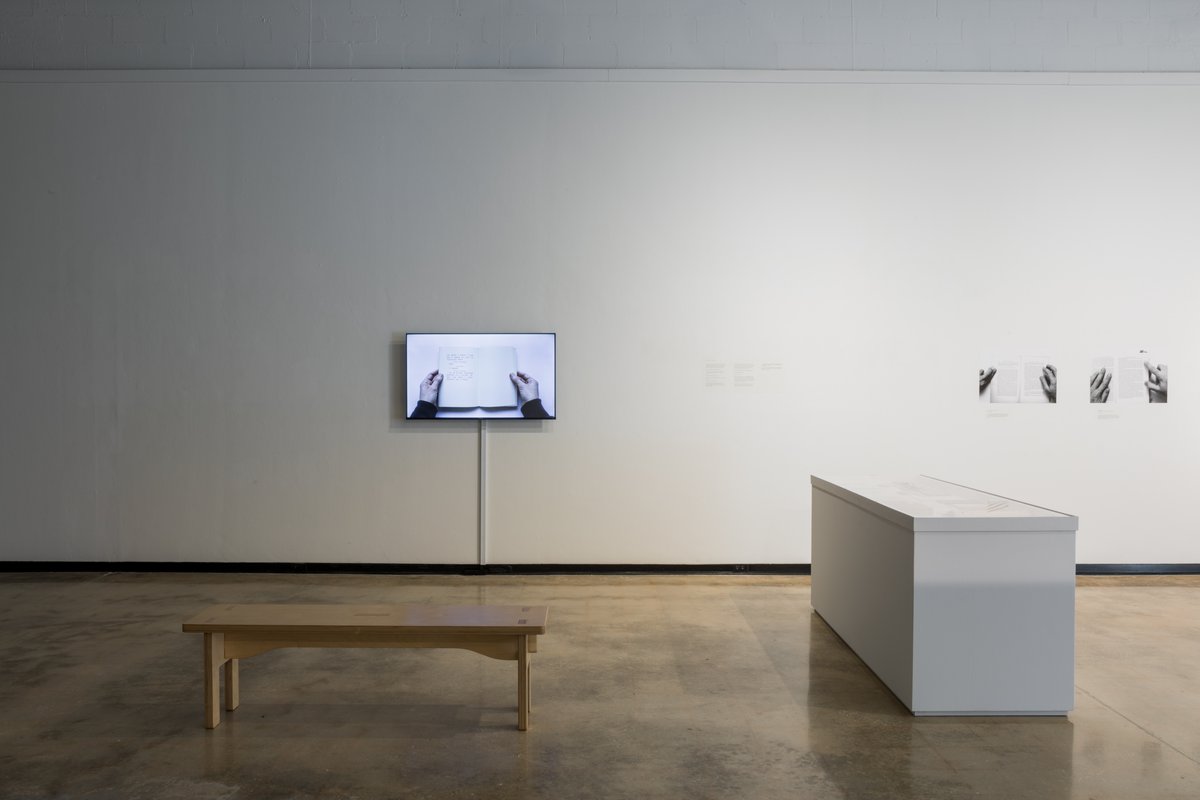 Julien Bismuth
Uncertain Codes, 2023
Installation view
Gary R. Libby University Gallery, Gainesville, Florida
Julien Bismuth
Uncertain Codes, 2023
Installation view
Gary R. Libby University Gallery, Gainesville, Florida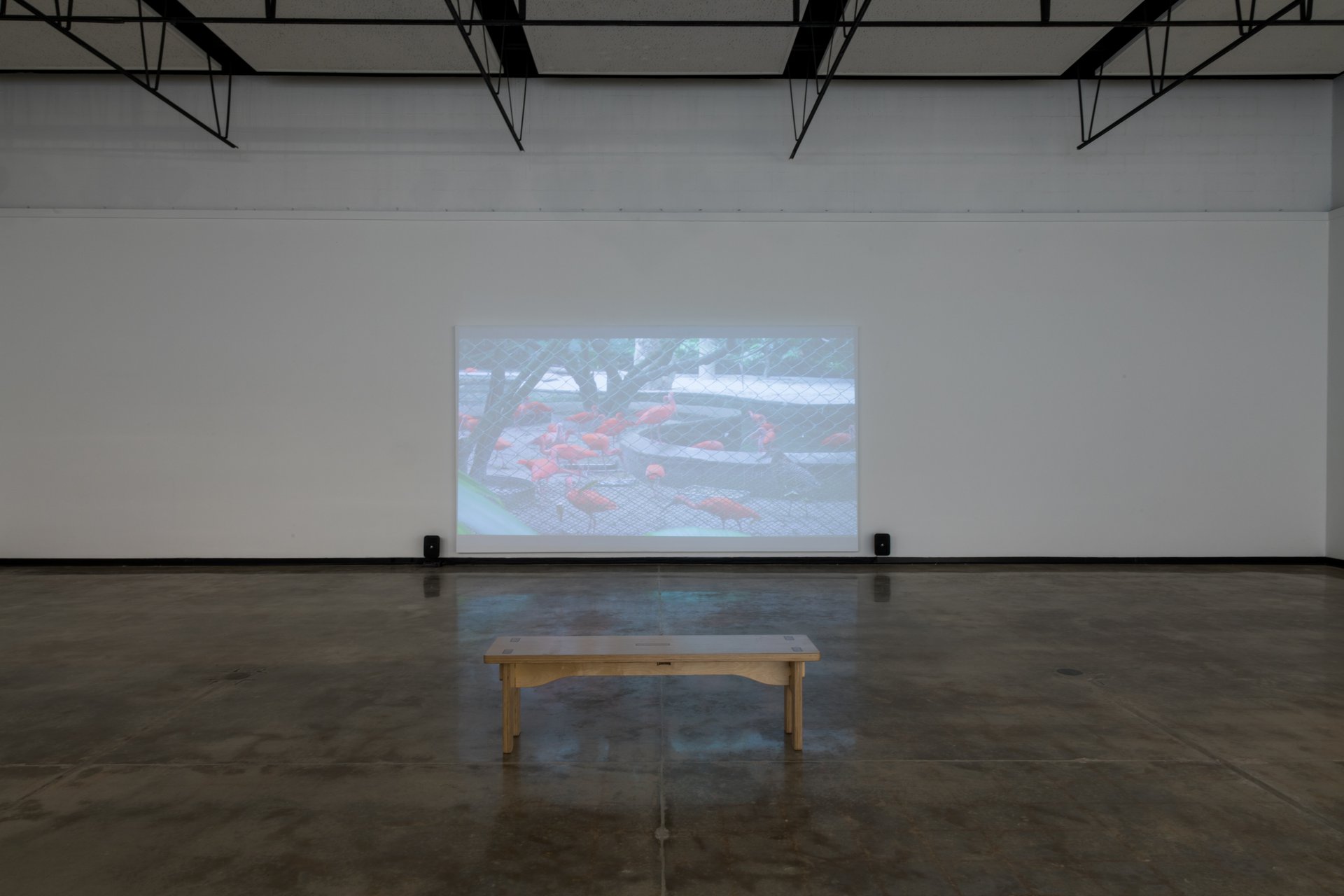 Julien Bismuth
Uncertain Codes, 2023
Installation view
Gary R. Libby University Gallery, Gainesville, Florida
Julien Bismuth
Fata morgana, 2022
Installation view
Musée du Jeu de Paume, Paris (FR)
© Photo: François Lauginie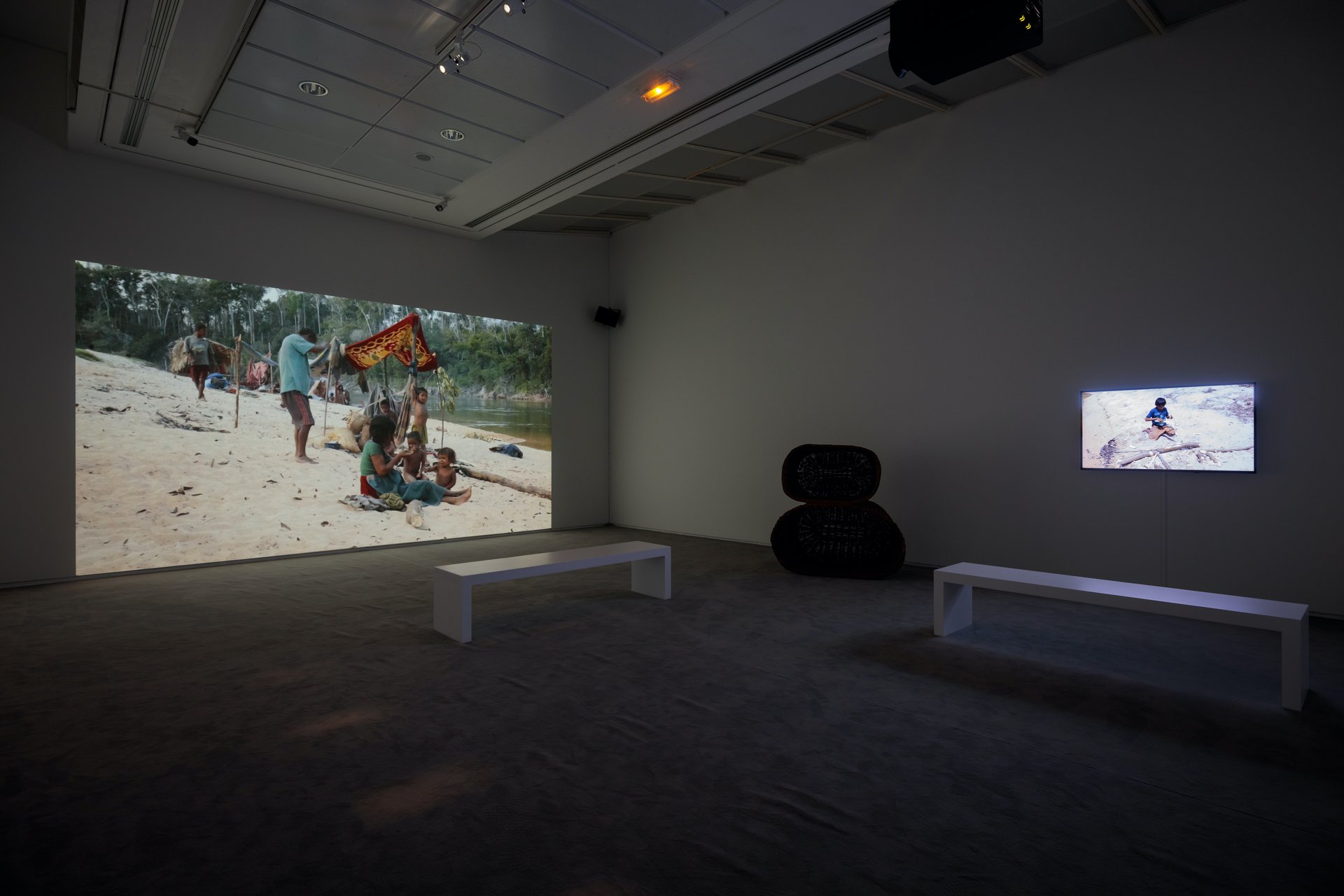 Julien Bismuth
Fata morgana, 2022
Installation view
Musée du Jeu de Paume, Paris (FR)
© Photo: François Lauginie
Julien Bismuth
Pulcinella Studies, 2022
Artist book
Box Editions, Los Angeles
Julien Bismuth
Hiaitsiihi, 2016-2019
Videostill
Seilerstaette
Julien Bismuth
January 26 – March 9, 2019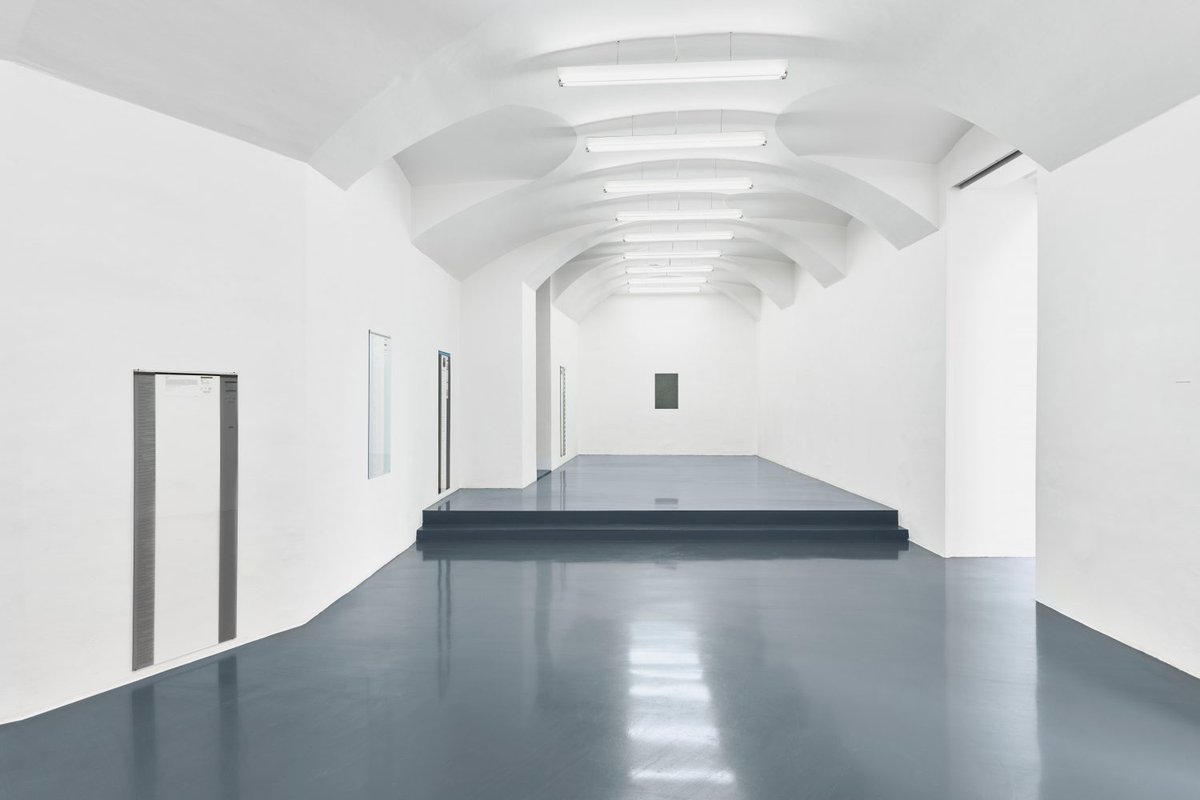 Julien Bismuth
Stücke, 2019
Installation view
Layr Seilerstaette, Vienna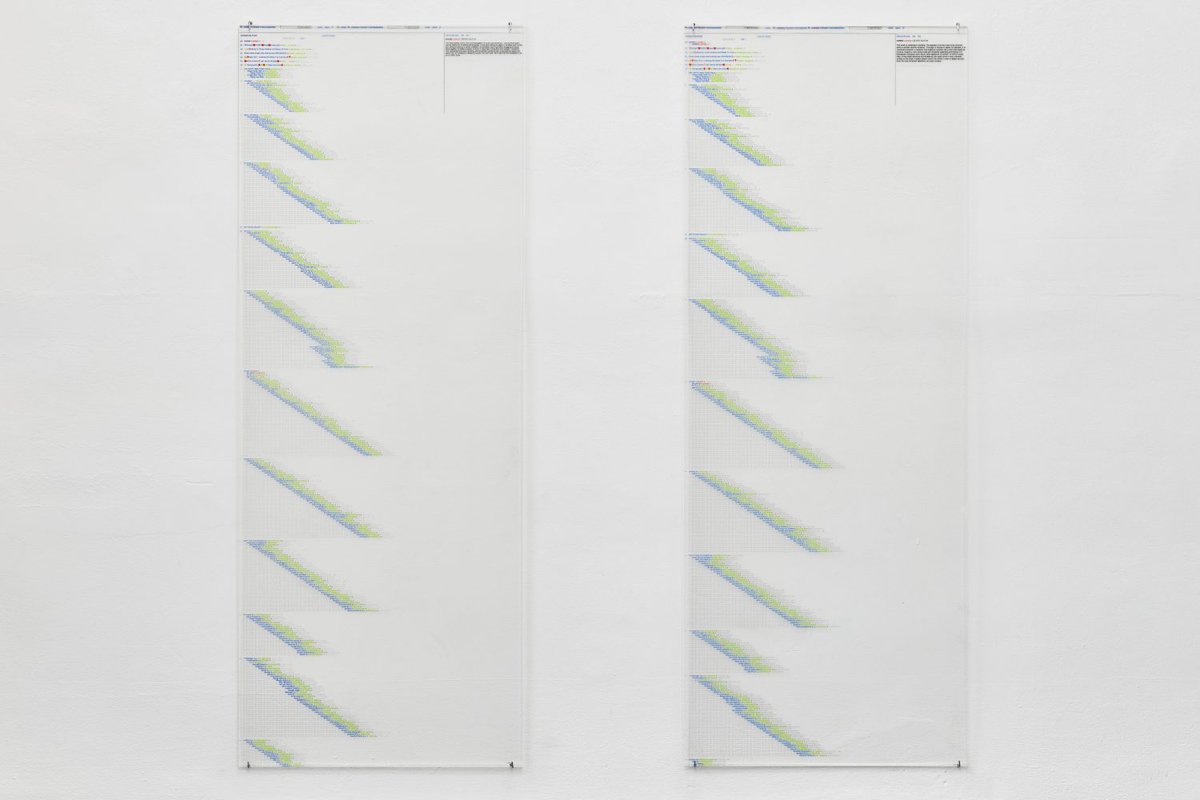 Julien Bismuth
Context and content, 2019
Inkjet print on plexiglass, diptych
Each 152 × 58.4 cm
Julien Bismuth
Cattle, 2019
Inkjet print on plexiglass
166.5 × 58.4 cm
Julien Bismuth
everything has a face and every face has its thing, 2019
Makeup, installation gesture*, inkjet print
29.7 × 27.9 cm

*Four fingers of the same hand, held to match the placement of the artist's eyes, nose, and mouth, colored with blue makeup, and pressed against a surface in the room. The work can be installed by the artist or someone else. The fingerprints can vary, but the proportions must stay the same.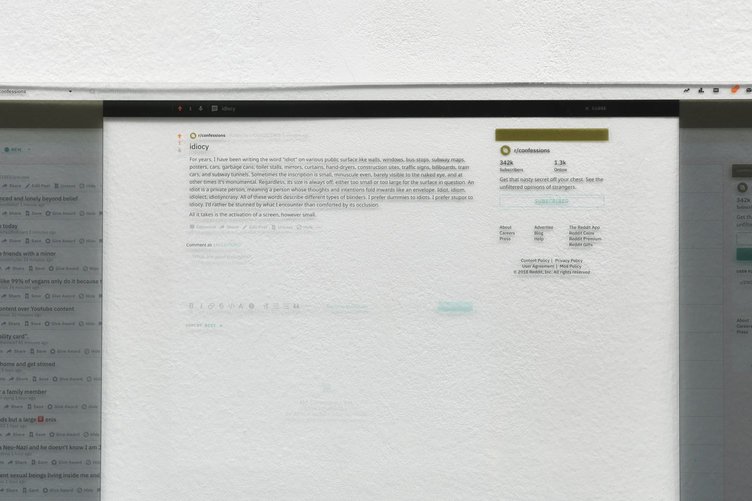 Julien Bismuth
Idiot confession, 2019
Julien Bismuth
Ideograph, 2018
Installation view
Galerie Parisa Kind, Frankfurt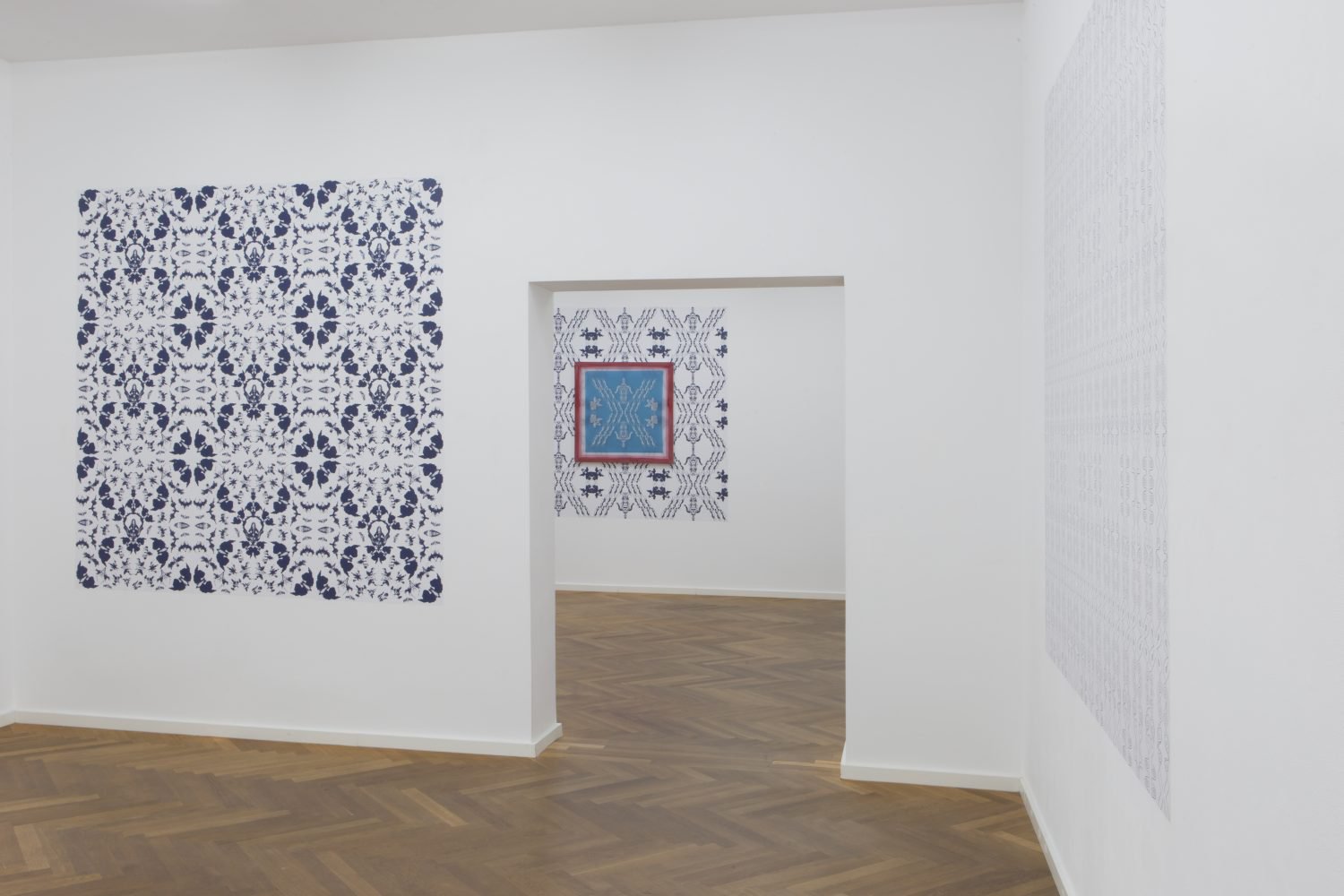 Julien Bismuth
Ideograph, 2018
Installation view
Galerie Parisa Kind, Frankfurt
Julien Bismuth
I'm not sure why but I'd rather show you shots without people in them for now, 2017
Ink jet print, dry-transfer wall text
90.1 × 60.9 cm
Julien Bismuth
teria matéria, 2017
Diptych, Ink-jet print, dry-transfer wall text
57.1 × 90.1 cm
Julien Bismuth
balsa, 2017
Diptych, Ink-jet print, dry-transfer wall text
55.8 × 90.1 cm
Julien Bismuth
balsa, 2017
Diptych, Ink-jet print, dry-transfer wall text
55.8 × 90.1 cm
Julien Bismuth
Streams, 2017
A4 print with encoded text
Julien Bismuth
Streams, 2017
A4 print with encoded text
Julien Bismuth
a bird in the hand is worth more than two in the bush, version 1
Ink-jet print
59 × 88 cm
Julien Bismuth
Zitat, India Chamacoco, Rio Nabilequé (Coleccion Boggiani No. 94), 2016
Serigraphy screens and prints on wallpaper
Julien Bismuth
Zitat, Darcy Ribeiro com rosto pintado, 2016
Serigraphy screens and prints on wallpaper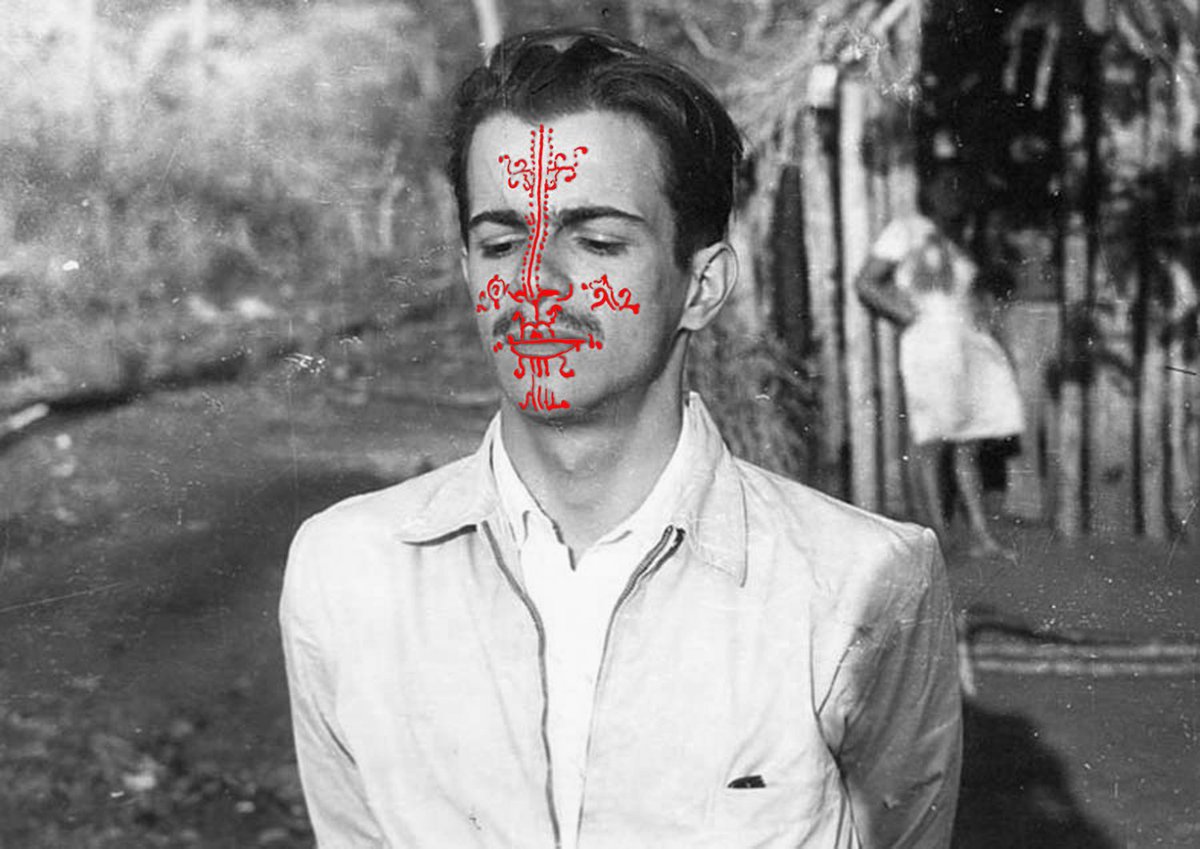 Julien Bismuth
Zitat, Darcy Ribeiro com rosto pintado, 2016
Serigraphy screens and prints on wallpaper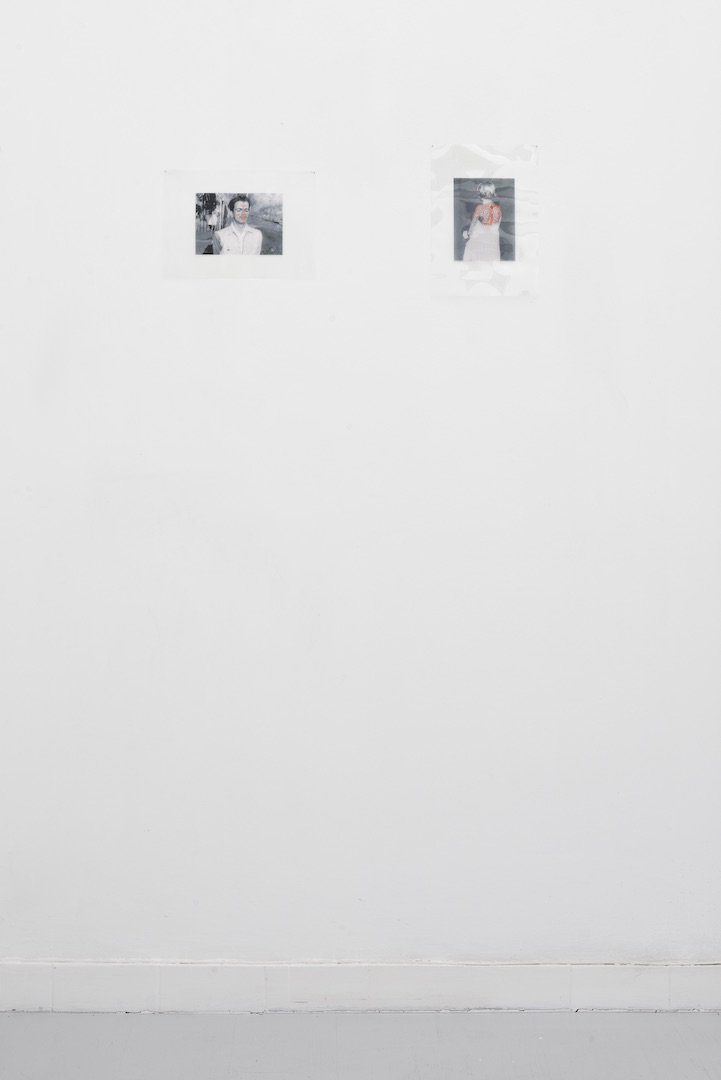 Julien Bismuth
Zitat, 2016
Installation view
Lira Gallery, Rome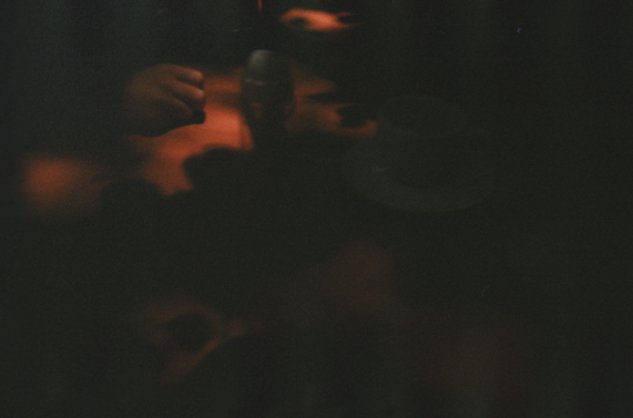 Julien Bismuth
Steganogram XV, 2015
Framed encrypted image, c-print of original image, A4-size ink-jet print of encoded text
85 × 57 cm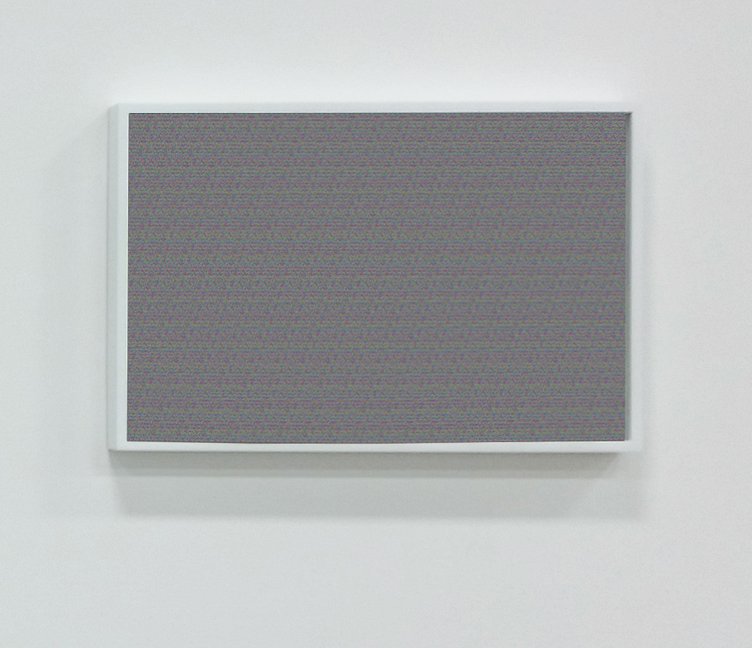 Julien Bismuth
Steganogram XV, 2015
Framed encrypted image, c-print of original image, A4-size ink-jet print of encoded text
85 × 57 cm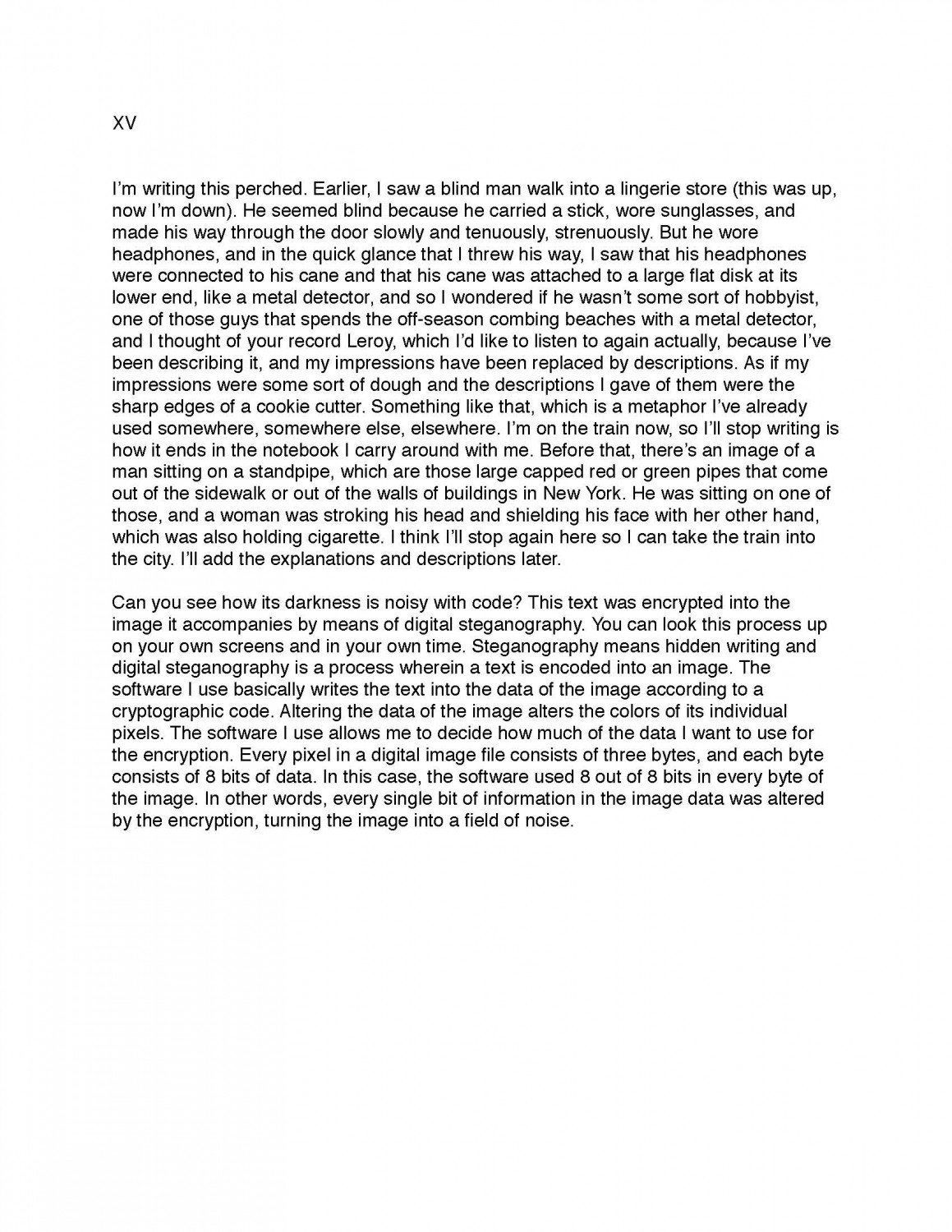 Julien Bismuth
Steganogram XV, 2015
Framed encrypted Image, c-print, ink-jet print of encoded text
57 × 85 cm
Julien Bismuth
Steganogram XVII, 2015
Framed encrypted image, c-print of original image, A4-size ink-jet print of encoded text
85 × 57 cm
Julien Bismuth
Untitled (beside), 2015
Performance view
FRAC, Besançon
Julien Bismuth
Untitled (beside), 2015
Performance view
FRAC, Besançon
Julien Bismuth
Stenogram 7, 2015
Serigraphy screen
56 × 46 cm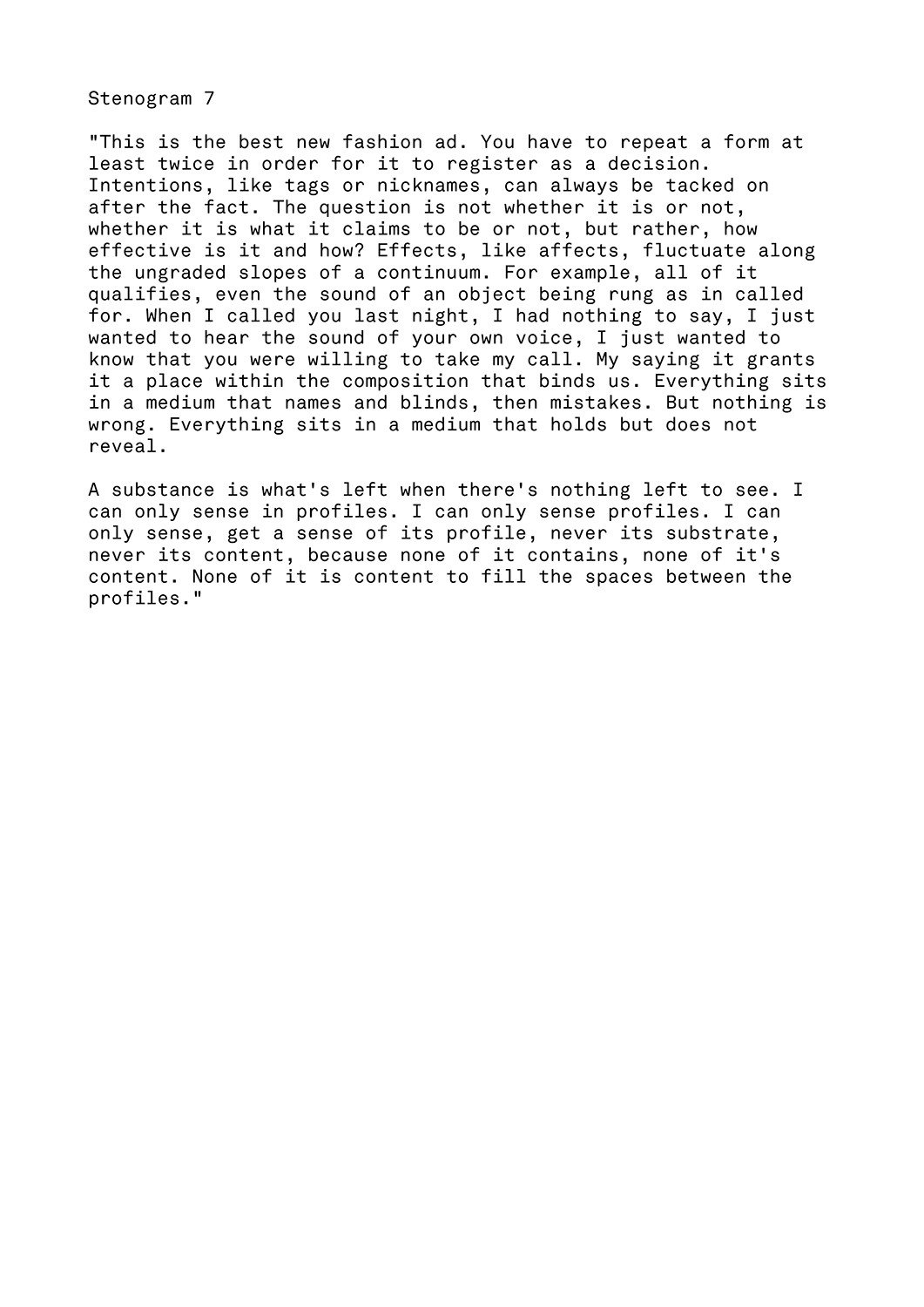 Julien Bismuth
Stenogram 7, 2015
Serigraphy screen
56 × 46 cm
Julien Bismuth
Collection of Stenographic Postcards 1, 2015
Video
00:16:11
Julien Bismuth
Novel, 2015
Found photograph, cropped digital file
Dimensions variable
Julien Bismuth
Diary of Charles H. Bell, 2015
Single-channel video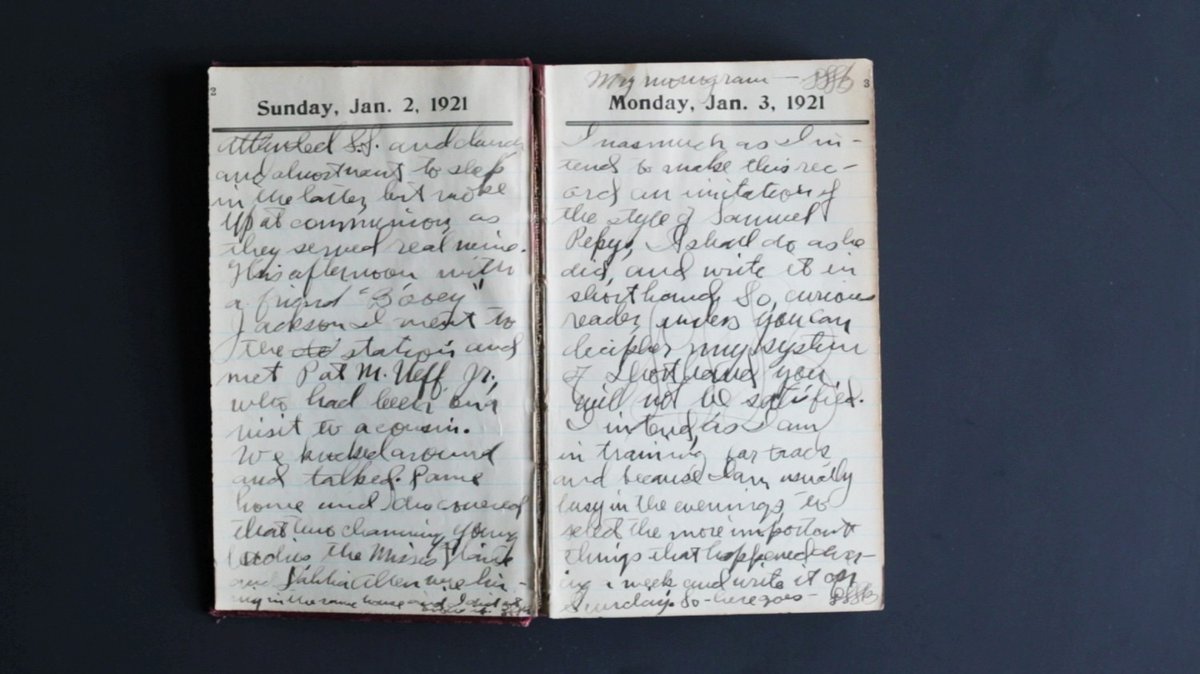 Julien Bismuth
Diary of Charles H. Bell, 2015
Single-channel video
Julien Bismuth
Smoke Screen, 2013
Installation view
Layr An der Hülben, Vienna
Julien Bismuth
Pli (ply), 2013
Photograph
2.5 × 9.5 cm,
Edition of 10 plus 1 artist's proof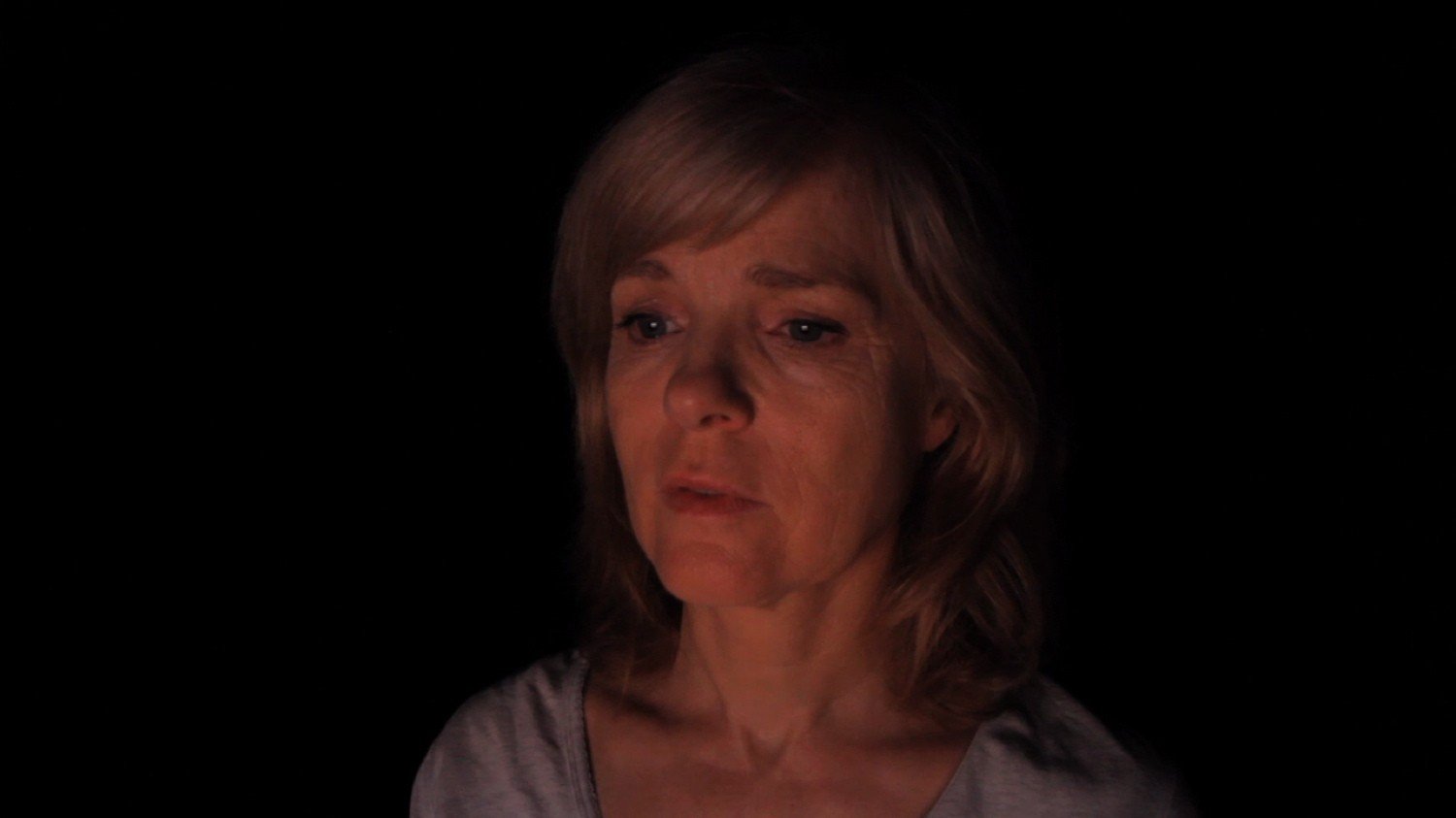 Julien Bismuth
Perroquet, 2013
Video
00:46:12
Edition of 3 plus 2 artist's proof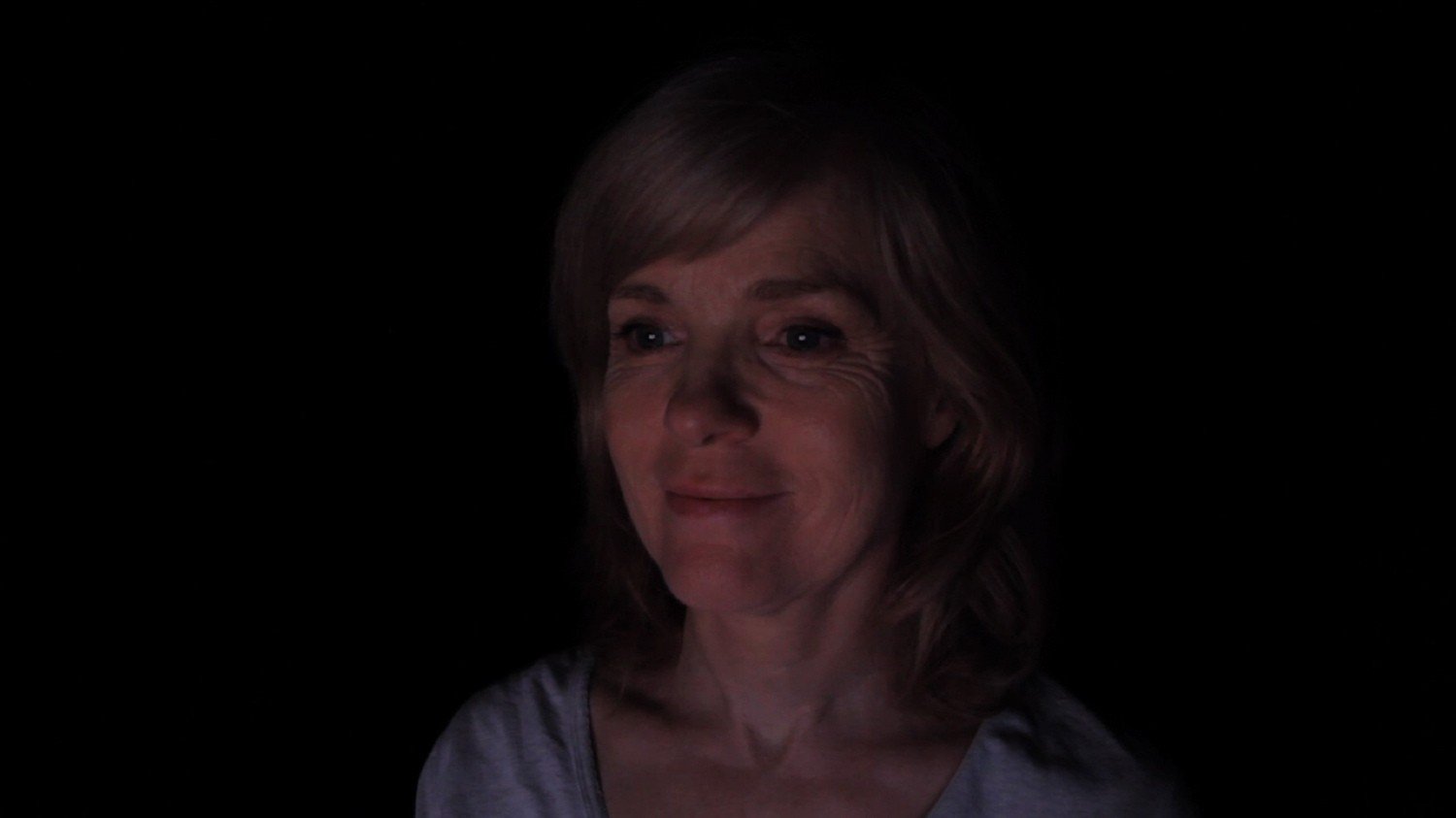 Julien Bismuth
Perroquet, 2013
Video
00:46:12
Edition of 3 plus 2 artist's proof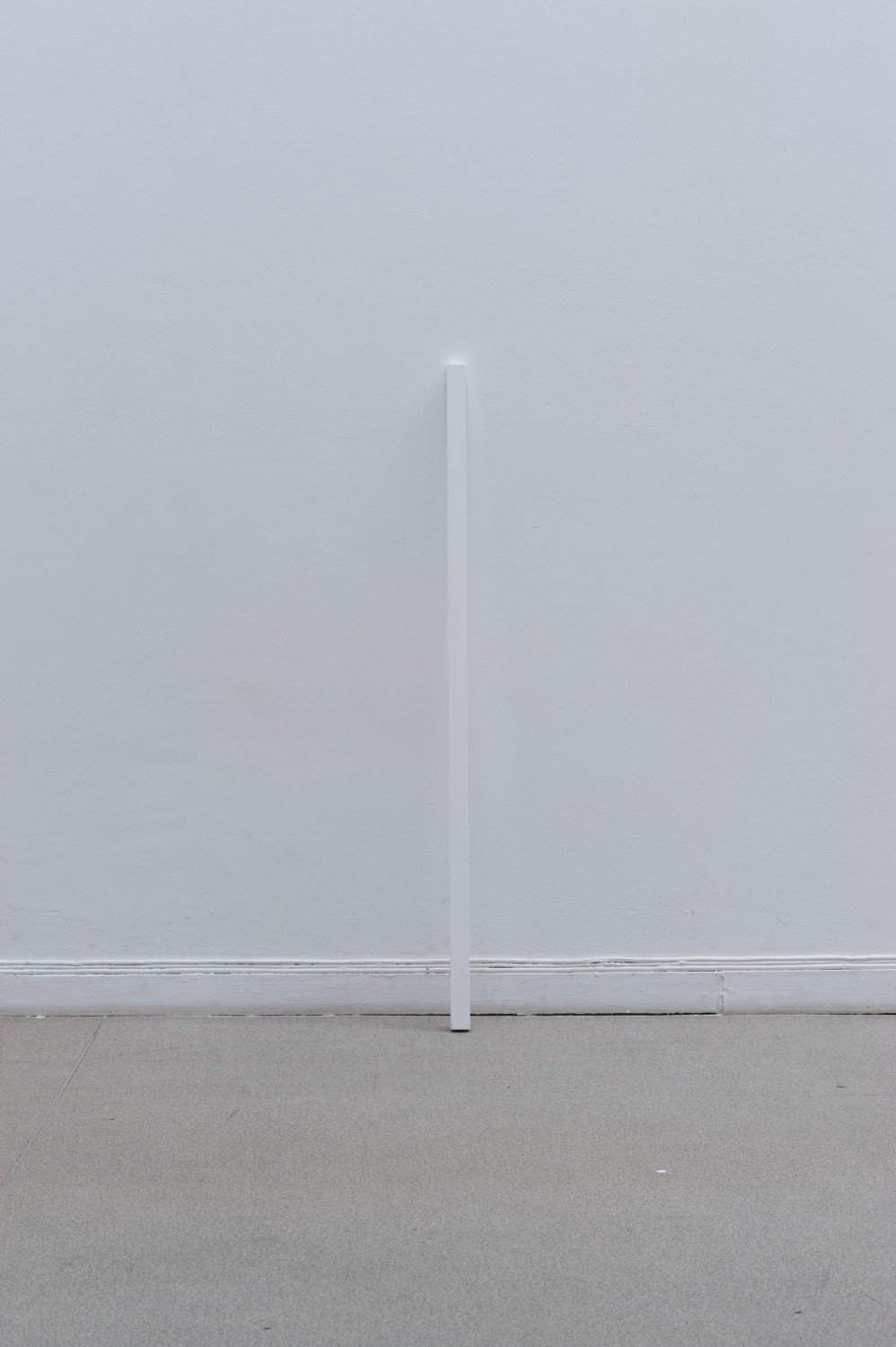 Julien Bismuth
A Thought, 2013
Lacquer on wood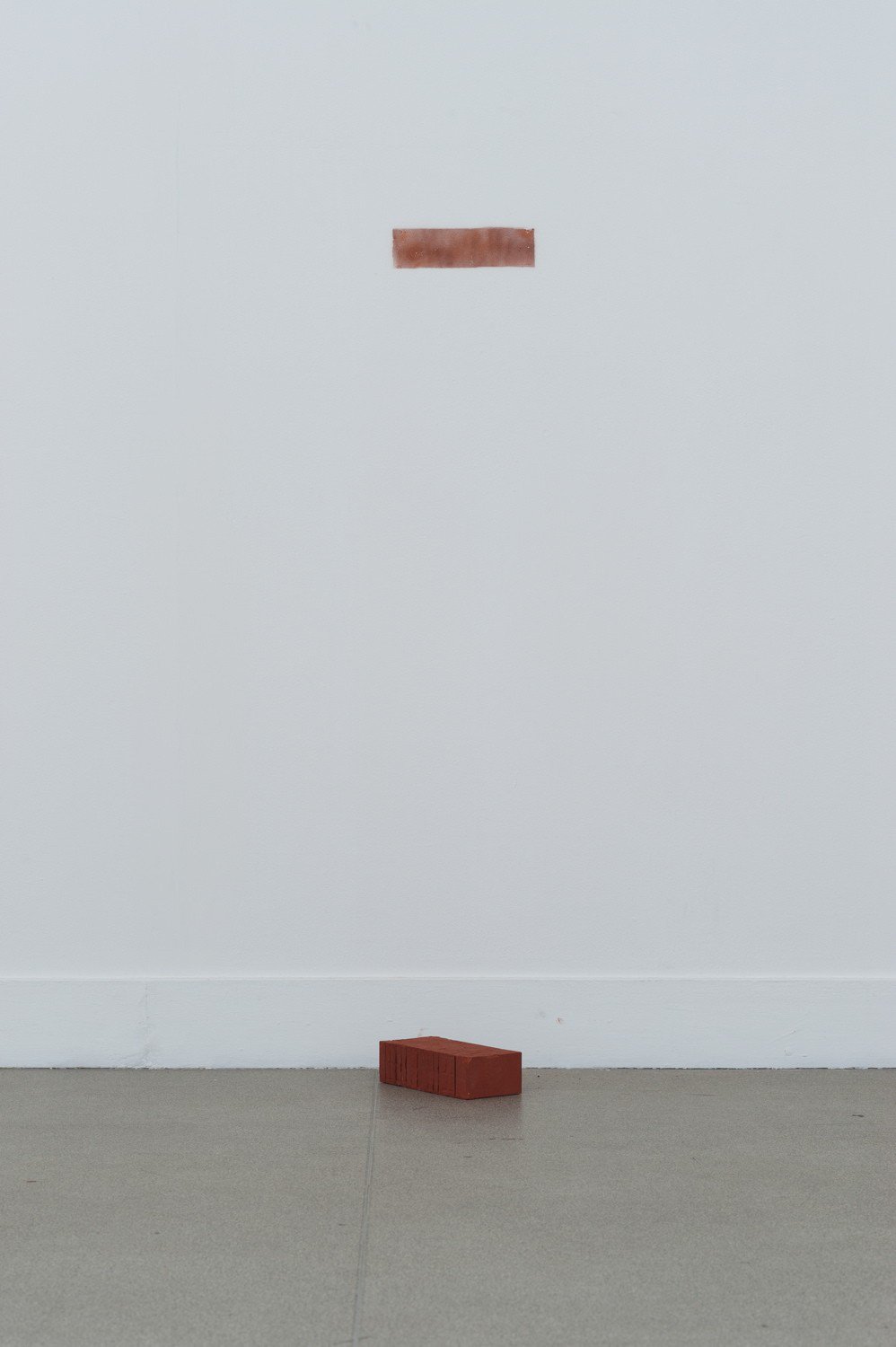 Julien Bismuth
Bricole, 2013
Brick, glue
Dimensions variable
Julien Bismuth
Or Flutes, 2013
Assorted PVC flutes
Dimensions variable
Julien Bismuth
Perroquet, 2013
Monitor live television feed
Dimensions variable
Julien Bismuth
Weary Willie, 2012
Performance at "Parallelwelt Zirkus"
Kunsthalle Wien, Vienna
Julien Bismuth
Weary Willie, 2012
Performance at "Parallelwelt Zirkus"
Kunsthalle Wien, Vienna
Julien Bismuth
Abîmes, 2014
Wallpaint remover on wall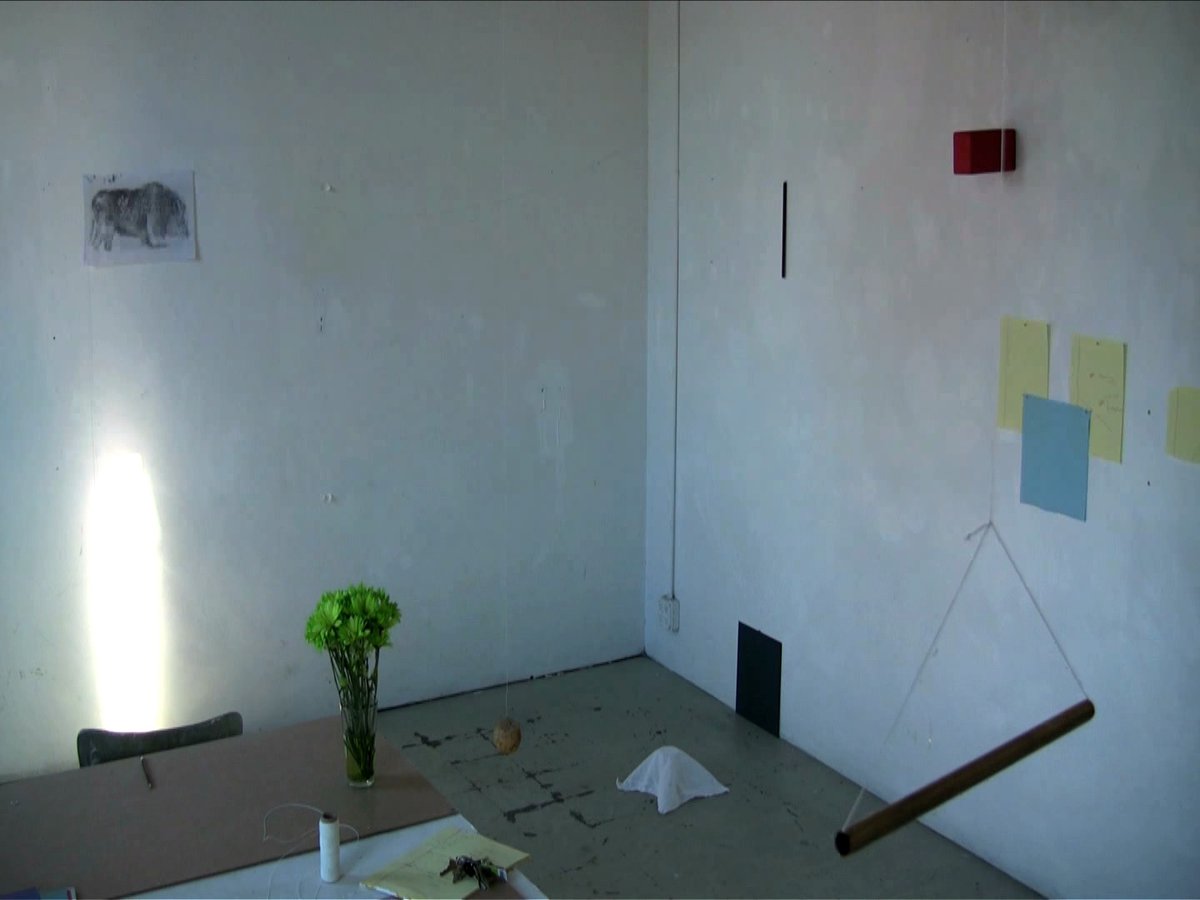 Julien Bismuth
In dieser großen Zeit, 2011
Video
00:10:00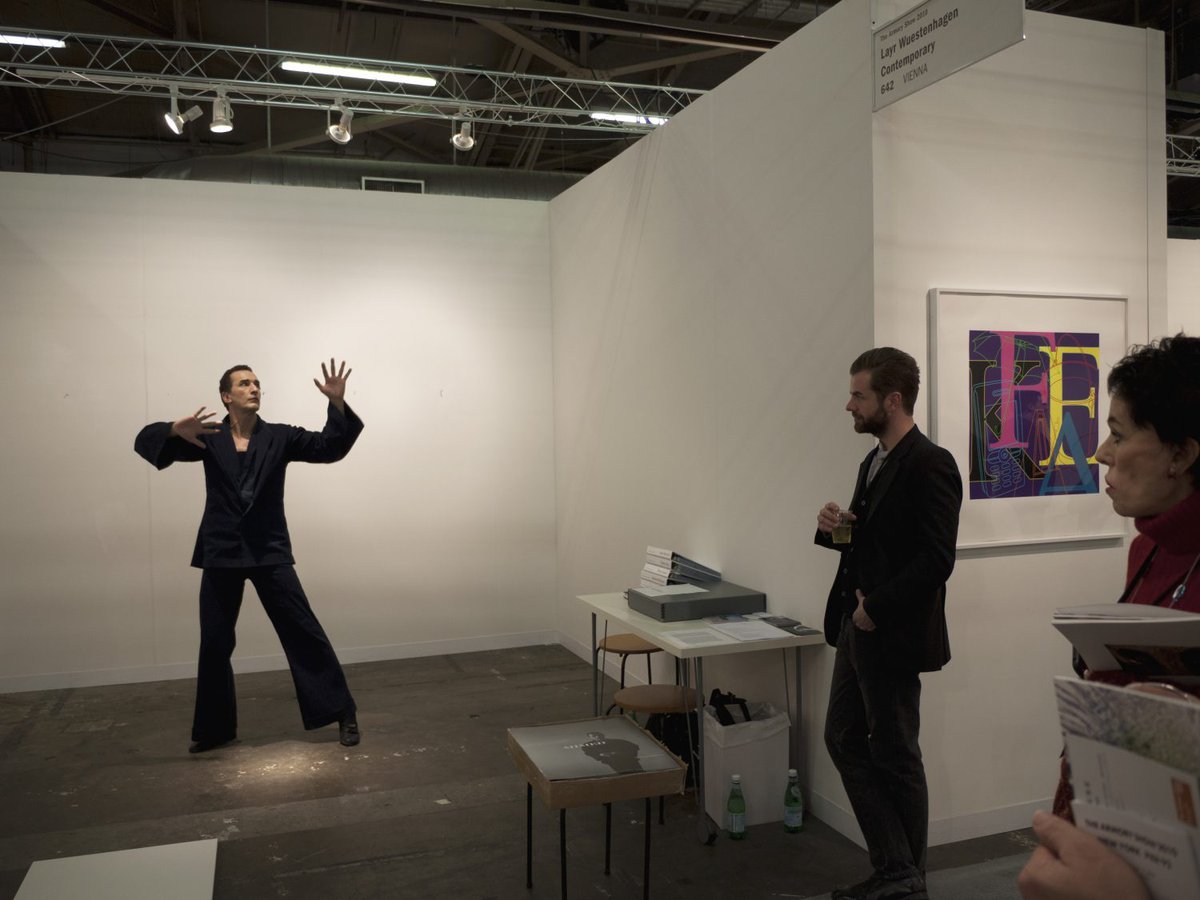 Julien Bismuth
Pieced II, 2014
Collage
ca. 29 × 21 cm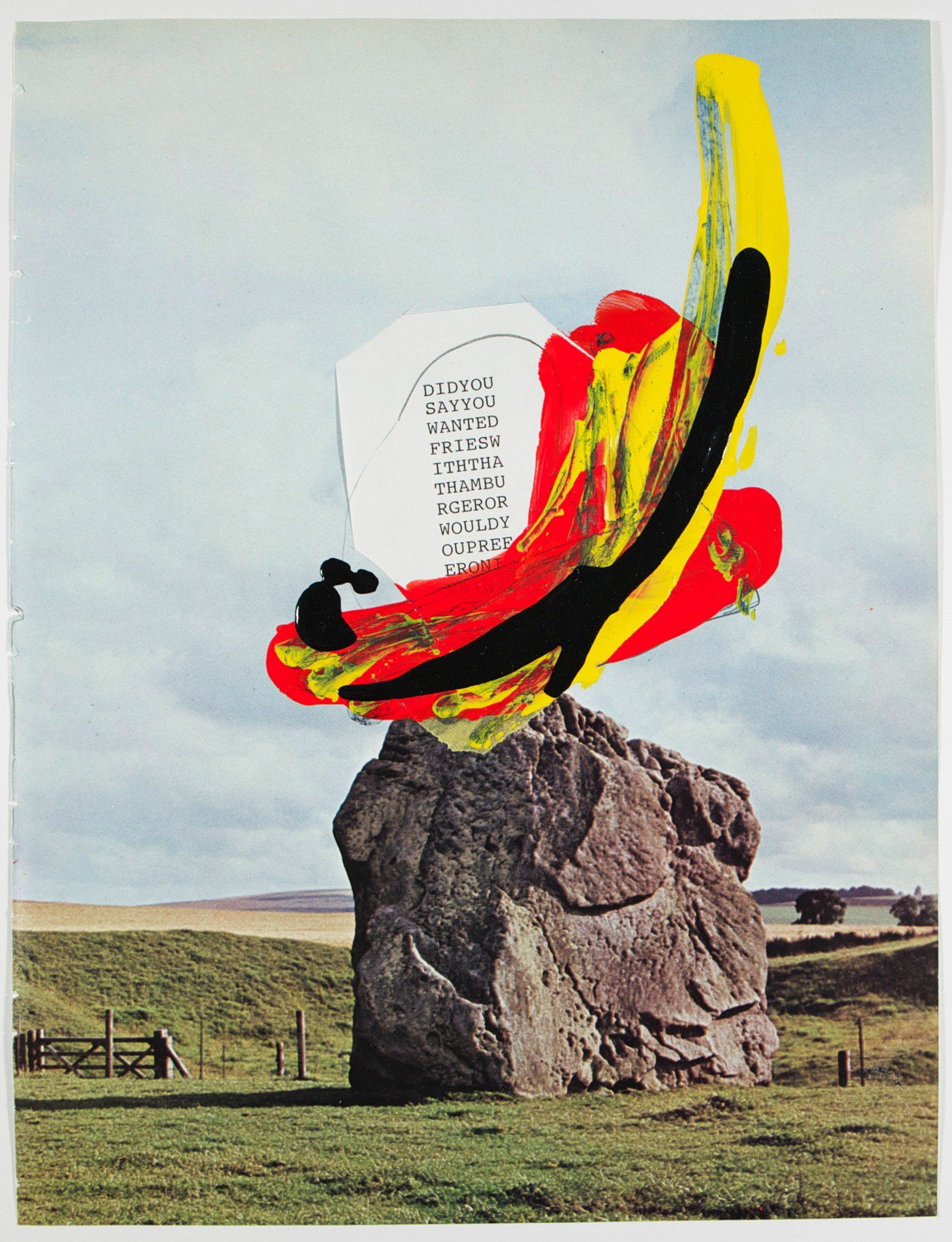 Julien Bismuth
didyousayyouwantedfrieswiththatburgeror
wouldyoupreferonionrings?, 2014
Acrylic paint, type writing on paper
29.7 × 21 cm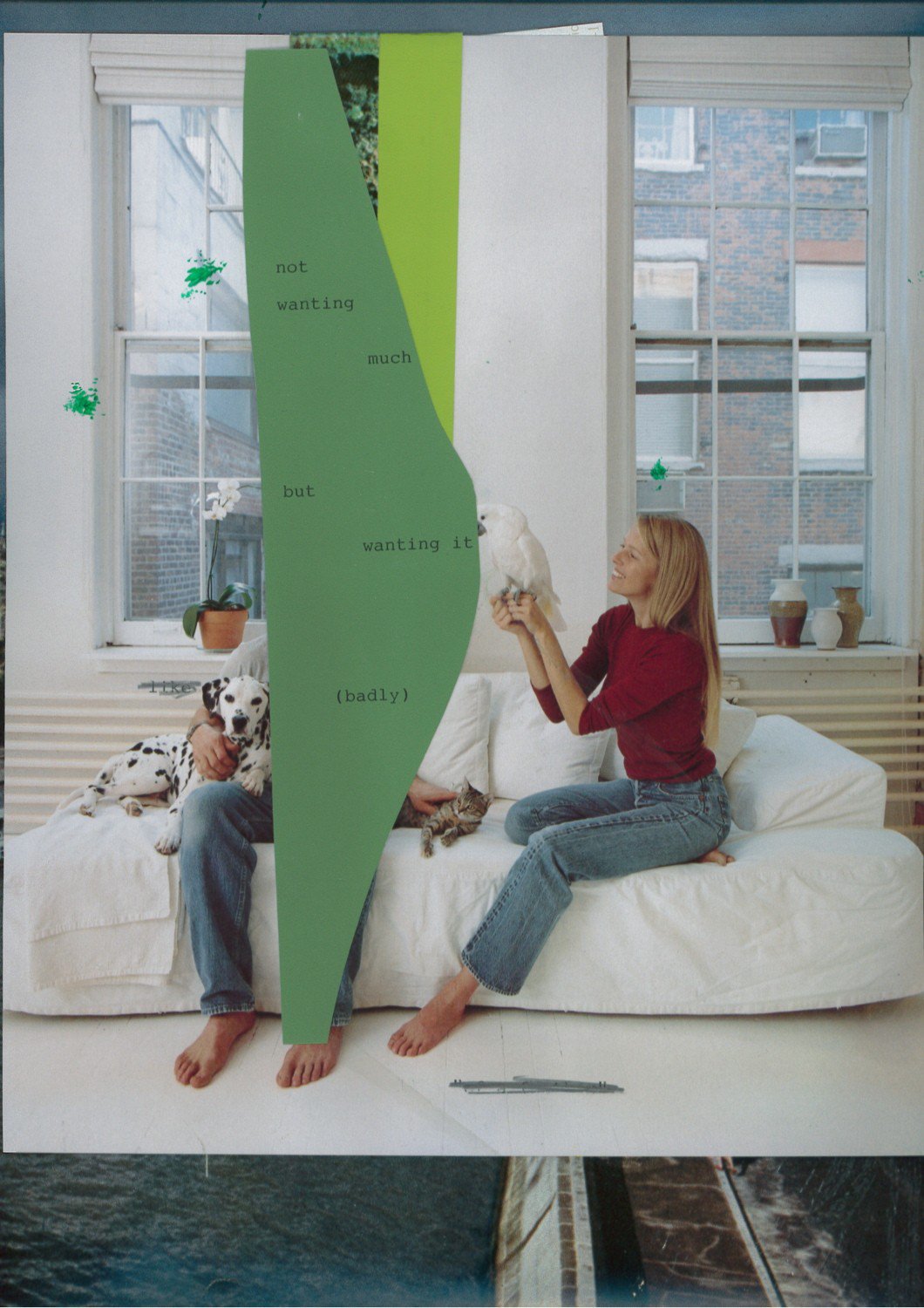 Julien Bismuth
Not wanting much but wanting it (badly), 2012
Type writer on collage
31 × 26 cm
Julien Bismuth
Untitled (Frustum), 2011
Collage
38 × 28 cm
---
Julien Bismuth
*1973 Paris, France
lives and works in New York
Solo Exhibitions
2023

Beat the Matrix, Simone Subal, New York (NY)

Language in Disquiet, curator: Jesus Fuenmayor, University of Florida, Gainesville, Florida (FL) (upcoming)

2022

Harlequinades, Galerie Vallois, Paris (FR)

2021

Shore Drift, Galerie Parisa Kind, Frankfurt (DE)

Scene, The Box, LA (USA)

2020

Hiaitsiihi, MAM Museu do Arte Moderno, Rio de Janeiro, Brasil

2019

Nomas Foundation, Rome (IT)
Stücke, Galerie Emanuel Layr, Vienna (AT)

2018

Façade project at The Box, Los Angeles, CA (USA)
Galerie Parisa Kind, Frankfurt (DE)

2017

streams, Galerie Simone Subal, New York (US)
Sibyl Sybil, La Criée. Centre d'Art Contemporain, Rennes (FR)

2016

Julien Bismuth, Solomon R. Guggenheim Museum, New York (US)
Partitions, Galerie Vallois, Paris (FR)
Zitat, Lira Gallery, Rome (IT)

2015

Stenograms, Galerie Emanuel Layr, Vienna (AT)
Julien Bismuth, The Box LA, Los Angeles (US)

2014

Liste 19, w. Lili Reynaud-Dewar, Galerie Emanuel Layr, Basel (CH)
Galerie Emanuel Layr, Vienna (AT)
Simone Subal, New York (US)

2013

Smoke Screen, Galerie Emanuel Layr, Vienna (AT)
Le Signe Singe, Julien Bismuth/Virginie Yassef, La Ferme Du Buisson, Marne-la-Vallée (FR)
Walks and Talks, with Lucas Ajemian, Invisible Exports, New York (US)
Untitled (Mime) from the Gensollen Private Collection, Istanbul (TK) organised by collectorspace New York
Julien Bismuth and Jean-Pascal Flavien, LA Existenzial, LACE (Los Angeles (US)
Contemporary Exhibitions) curated by Marie de Brugerolles (US)
Julien Bismuth, Galerie Georges-Philippe & Nathalie Vallois, Paris (FR)

2012

Catalog, Galerie Parisa Kind, Frankfurt (DE)

2011

"Notes towards a theory of distraction" Simon Subal Gallery, New York (US)
Frustum, Galerie Emanuel Layr, Vienna (AT)
The Ventriloquism Aftereffect, Gesellschaft für aktuelle Kunst Bremen (DE)
"Parcours St Germain" together with Virginie Yassef at the Hotel Lutetia (FIAC event), Paris (FR)

2010

The Golden Ass, The Box, Los Angeles (US)
MIMED, The Armory Show, solo presentation by Layr Wuestenhagen, New York (US)
Shannon Bool et Julien Bismuth, Crac Alsace, Altkirch (FR)
Bloomberg Space, curated by Vanessa Desclaux, London (UK)
Les Tristes : Invisible Exports (with Lucas Ajemian), New York (US)

2009

Titled (Untitled), Galerie Parisa Kind, Frankfurt (DE)
Les Continents incontinents, Galerie Georges-Philippe & Nathalie Vallois, Paris (FR)

2008

Unbestimmte Stellen, Layr Wuestenhagen, Vienna (AT)
The Box LA, Los Angeles (US)
Les lettres tristes, with Lucas Ajemian, Foxy Productions, NY (US)

2007

Monologues for Minerals, 1.1 (Salt Flat / Radio Stück), Galerie Parisa Kind, Frankfurt (DE)

2006

Les Tristes; a particular sequence of varying pitch, tone or stress (with Lucas Ajemian), Galerie Parisa Kind, Frankfurt (DE)
Marchand d'oubli, Galerie Georges-Philippe & Nathalie Vallois, Paris (FR)
Devonian Press: Books and Limited Editions (with Jean-Pascal Flavien), A&M Bookstore, Milan (IT); Barbara Wien Gallery, Berlin (DE)
Selected Group Exhibitions
2023

Lacan Show, curator: Marie-Laure Bernadac, Bernard Mercadé, Gérard Wajcman & Paz, Corona, Centre Pompidou Metz, Metz (FR) (upcoming)
Uncertain Codes, organized by Julien Bismuth, Gary R. Libby University Gallery, Gainesville, Florida (US)
Charles, Charles, Charles. Sors de ta réserve #4, Frac Île-de-France, Les Réserve, Romainville, France (FR)

2022

New Space Show, Layr, Vienna (AT)
Fata Morgana, curated by Béatrice Grosse and Katinka Böck, Musée du Jeu de Paume, Paris (FR)
Stencils, curated by Sébastien Délire, Charleroi, Belgium (BE)

2021

Night of Philosophy, curated by Mériam Kouichi, UNESCO, Paris (FR)

2020

Des Visages, Carré d'Art, Nîmes (FR)
Back to the Future, Galerie GP & N Vallois, Paris (FR)
Sanfona/Symphony, cultural and fundraising initiative between The Box LA and Pluto Projects for the Indigenous peoples of Brazil guided by Julien Bismuth and Corazon Del Sol, online

2019

Oslo Biennial (NO)
21+, Kunstraum am Schauplatz, Vienna (AT)

2018

Synonymie Ambiante, FRAC, Marseille (FR)
Natura Naturas, Mendes Wood, New York (USA)
Contre-Allees, Galerie Georges-Philippe & Nathalie Vallois, Paris (FR)
XIV edition of the Cuenca Biennial, Cuenca (ECU)

2017

Threads Left Dangling, Veiled in Ink, Galerie Emanuel Layr, Vienna (AT)
Hotel du Pavot 2, Frac Ile de France, Chateau de Rentilly, Bussy-Saint-Martin (FR)
American Interior, carriage trade, New York (US)
Modus Operandi, Société d'éléctricité, Brussels (BE)
Palais Potemkine, curated by Emile Ouromov, National Art Gallery of Sofia (BG)
Dimensões Variáveis/Variable Dimensions, curated by Gregory Lang and Inês Grosso, MAAT, Lisbon (PT)

2016

The Language of Things: Material Hi/Stories from the Collection, 21er Haus, Vienna (AT)
Me souwiendra (ou l'ousage de la parole), Index Gallery, Paris (FR)
Economie de la tension, Centre d'Art Contemporain Parc St.Léger, Pouges-les-Eaux (FR)
Variable Dimensions, Emily Harvey Foundation, New York (US)
I will go where I don't belong, co-curated by Milovan Farronato and Camille
Henrot, Stromboli (IT)
L'homme aux cents yeux, curated by Gilles Baume, Plateau-Frac Ile de France, Paris (FR)
Impromptu, The Box, Los Angeles (US)

2015

Very Long Fingers, Simone Subal Gallery, New York (US)
Artistes et Architecture, curated by Gregory Lang, Pavillon de L'Arsenal, Paris (FR)
CAC de la Ferme du Buisson, Noisiel (FR)
Infiltrations, Centre d'Art Bastille, Grenoble (FR)
Dub, Parcours Night 2015, curated by Florence Dérieux, Art Basel, Basel (CH)
Alfred Jarry archipelago, curated by Keren Detten, Julien Pellegrin and Leonardo Bigazzi, traveling exhibition, Le Quartier, Quimper (FR)
Theatre of Operations, Phase 1 : Reconaissance, Théâtre de l'Usine, Geneva (CH)
McGuffin, École des Beaux Arts, curated by Marie Brugerolle, Geneva (CH)
Rideaux/Blind, Institut d'Art Contemporain, curated by Marie de Brugerolle, Lyon (Villeurbanne) (FR)
La rhétorique de marées, curated by Ariane Michel, Esquibien (FR)
The Artist is a mysterious entertainer, FRAC Besançon, curated by Vanessa Desclaux, Besançon (FR)
The rhetoric of the tides, curated Ariane Michel, La Criée, Rennes (FR)
Alfred Jarry, Archipelago: la Valse des Pantins, Acte I, le Quatier, Quipmer and la Ferme du Buisson, Noisiel (FR)
Alfred Jarry, Archipelago: la Valse des Pantins, Acte II, Marion Marini Museum, Florence (IT)

2014

Itself Not So, curated by Rachel Valinsky, Lisa Cooley, New York (US)
Unlooped-Kino, Manifesta 10, St. Petersburg (RU)
Clear, curated by Aaron Moulton, Gagosian, Los Angeles (US)
Langue des oiseaux et coq à l'âne, curated by Marion Daniel, Frac Bretagne (FR)
Le Rire, curated by Léo Guy-Denarcy, Centre d'Art Contemporain du Pays de Lorient (FR)
All that falls, Palais de Tokyo, curated by Gérard Wajcman and Marie de Brugerolle, Paris (FR)
Véritable prélude de flasques (pour un chien), curated by Marie Frampier, Maison Populair, Montreiul (FR)

2013

Satellite 6 : Suite pour exposition(s) et publication(s), curated by Mathieu Copeland, Jeu de Paume, Paris (FR)
L'image dans le tapis, curated by Olivier Michelon, Les ateliers des Arques, Les Arques (FR)
Secret Codes, curated by Augustín Perez Rubio, Galeria Luisa Strina, Saõ Paolo (BR)
Goodbyehello, Sammlung Lenikus, Vienna (AT)
LA Existancial, curated by Marie de Brugerolle, LACE, Los Angeles (US)
It's When It's Gone That You Really Notice It, Simone Subal Gallery, New York (US)
Domino – Domino Bis, curated by Martin Michard, Église des Cordeliers, Gourdon (FR)

2012

Parallelwelt Zirkus, Kunsthalle Wien, Vienna (AT)
The Poster Show, Galerie Carlier-Gebauer, Berlin (DE)

2011

Partenaires Particulieres, CRAC Alsace, Alsace (FR)
Making and art, Stadtgalerie Schwaz (AT)
Mirages, Fountains and Dissociative Composition, Galerie Catherine Bastide, Brussels (BE)
"a painting show", Autocenter Berlin (DE)
Terminal Jest, Articulture Biennial Arts Festival, DCCC, Delaware (US)
One is the Loneliest Number…, ICA Philadelphia (US)

2010

Monsieur Miroir, 12e Prix Fondation d'entreprise Ricard, curated by Émilie Renard, Fondation d'entreprise Ricard, Paris (FR)
Printemps de Septembre, curated by Éric Mangion, Toulouse (FR)
Playing the city II, Schirn Kunsthalle, Frankfurt (DE)
"Mike, Alec or Rufus?" ("Tom, Dick or Harry"), Layr Wuestenhagen, Vienna (AT)
Solace, Austrian Cultural Forum, New York (US)

2009

Treasures for Theatre, La Ferme du Buisson, Paris (FR)

2008

Ne pas jouer avec les choses mortes, Villa Arson, Nice (FR)
Comme des betes, Musee des Beaux Artes, Lausanne (CH)
Anthology, Otero Plassart Gallery, Los Angeles (US)
Festival a/d Werf, Utrecht (NL)
La seconde est partie la première, Musée du Jeu de Paume, Paris (FR)
SOME THING ELSE, Peter Blum Gallery, curated by Simone Subal, NY (US)
SIGNALS, Orange County Museum Art (USA)
Garage Sale, Galerie Parisa Kind, Frankfurt (DE)

2007

PAWNSHOP, Cur. Anton Vidokle, E-Flux, New York (US)
Dangling Man, Office Baroque Gallery, Antwerp (BE)
La Boum, Layr Wuestenhagen, Vienna (AT)
A point in space is a place for an argument, David Zwirner, New York (US)
Welcome to My World, Alexandre Pollazzon, Ltd, London (UK)

2006

Nice Art, curated by Axel Huber, Lahr (DE)

2005

International Laundry, Galerie Parisa Kind, Frankfurt (DE)

1999

Tri-Annuale: Part I, Los Angeles Contemporary Exhibitions, Los Angeles (US)
Performances
2018

While I was also listening to Krysten, LeRoy, Julien, Jennie, Félicia, David, Yann, Luke, Sarah…, Human Resources, Los Angeles, CA (US)

2017

Festival Actoral, Montevideo, Marseille, France (FR)
Paroles, Centre Georges Pompidou, Paris, France (FR)
Slapdash, curated by Emile Ouromov in partnership with the Fondation Ricard, National Art Gallery of Sofia, Sofia, Bulgaria (BG)

2016

Legno, curated by Pier Paolo Pancotto, Villa Medici, Rome (IT)
Untitled Performance, Volcano Extravaganza, Stromboli (IT)
Villa Medici, Rome (IT)
Willy Nilly, curated by Gilles Baume, FRAC Le Plateau Ile de France, Paris (FR)
Billy, Performance with Alan Fairbairn and Christophe Marand, curated by Gilles Baume, FRAC Le Plateau Ile de France, Paris (FR)
Untitled (Signed), curated by Teresa Calonje, Second Home, London (UK)
Untitled (Track), Simone Subal Gallery, New York (US)
Untitled (Lisp or Lapse), Emily Harvey Foundation, New York (US)

2015

Untitled (Fill), The Box, Los Angeles (US)
Night of Philosophy, curated by Meriam Kouichi, French Institute, New York (US)
Per4m, Artissima, Turin, curated by Chris Sharp, Sophie Goltz and Simone Menegoi (IT)
L comme Litote, Palais de Tokyo, intervention curated by Sébastien Faucon, April 10-12, Paris (FR)
Dub, curated by Florence Dérieux, Parcours, Art Basel (CH)

2014

Plouf!, (with Jean Pascal Flavien), Palais de Tokyo, Paris (FR)
Rieur, as part of "L'art chemin faisant... Le Rire, un parcours jaune", Atelier D'Estienne, Lorient (FR)

2013

Untitled (Mime) from the Gensollen Private Collection, Collectorspace, Istanbul (TR)

2012

Exposição, with Helmut Batista and Amilcar Packer, Teatro Ipanema. Rio de Janeiro (BR)
Verbo, curated by Julia Rodrigez, Galeria Vermelho (BR)
Weary Willie, Parallelwelt Zirkus, Kunsthalle Wien, Vienna (AT)
Bodies That Matter, Beursschouwburg, Brussels (BE)

2011

I was a male Yvonne de Carlo. Critical art can be sophisticated, even entertaining, (with Jean Pascal Flavien), MUSAC, Léon (ES)
Untitled (Wait), Art Contemporary, Los Angeles (US)
In dieser großen Zeit, with Alpar Fendu, GAK Bremen (DE)
Fuß fassen, COCO, with Andreas Duscha, Vienna (AT)

2010

The Funniest Sculpture in the world, Monsieur Miroir, Fondation Ricard, Paris, (FR)
The Funniest Sculpture in the world, CRAC Alsace, Alsace (FR)
Le Rire Jaune, Galerie Vallois, Paris (FR)
Stillleben, Schirn Kunsthalle, Frankfurt (DE)

2009

"/", Kunsthalle Wien project space, Vienna (AT)
"Plouf!", together with Jean Pascal Flavien, Tate Modern London (UK)
E'cart / Retard, La Ferme du Buisson, Paris (FR)

2008

Monologues for Minerals, Festival a/d Werf, Utrecht (NL) (with Giancarlo
Vulcano)
Monologues for Minerals, Musée départemental d'art contemporain de Rochechouart, Rochechouart (FR) (with Giancarlo Vulcano)
Monologues for Minerals, IAC - Institut d'art contemporain, Villeurbanne (FR) (with Giancarlo Vulcano)
Monologues for Minerals, Bétonsalon, Paris (FR) (with Giancarlo Vulcano)
Monologues for Minerals, Parasol Unit, London (UK) (with Giancarlo Vulcano)
Monologues for Minerals,Karriere bar, Copenhagen (DK) (with Giancarlo Vulcano)

2006

Palme D'Or Television, (together with Lucas Ajemian, Mike Bouchet, Sebastien Clough, Christian Jankowski and Seth Williamson), Frankfurt Art Fair, Frankfurt (DE)

2005

Announcement,(together with Jean-Pascal Flavien and Giancarlo Vulcano and The Occasion Band) Confucius Square, New YorK (US)

2003

Space: A Lecture, Michelle Maccarone Gallery, New York (US)

2000

A Hidden Object, Independent Performance Space, Los Angeles (US) (together with Jean-Pascal Flavien)
Untitled (Whales), Independent Performance Space, Los Angeles (US) (together with Jean-Pascal Flavien)

1999

Comfort Table, S.O.S. Gallery, Los Angeles (US) (together with Mike Bouchet)
Prizes / Grants
2015

Prix K-Way Perf4m, Artissima, Torino (IT)
Fondation des Arts Graphiques et Plastiques, Paris (FR)

2013

Résidence Atelier les Arques, France (FR)

2012

Peter S.Reed Foundation Artist's Grant, Ohio (US)
Capacete, Rio de Janeiro, Brasil (BR)

2011

Artist's Book, Paris, France (FR)

2010

Transfer. Mühlheim, Germany (DE)

2003-05

Kahler Grant, Princeton University (US)

2001-05

Graduate School Summer Stipend for Research Abroad, Princeton University (US)

1999

Los Angeles Contemporary Exhibitions (US)

1994

Foundation for Art Ressource Art, Los Angeles (US)

1993

Visual Arts Department Award, UCLA (US)

1991-94

National Merit Scholarship (US)
Press
2020

Davide Daninos, " Julien Bismuth Hiaitsiihi", Flash Art, February

2019

Béatrice Gross "Etre aux monde/ Etre à la forêt monde", Journal des Arts, October
Marie de Brugerolle, "Post-Performance-Painting", Mousse, January
Christian Egger, "Julien Bismuth at Emanuel Layr", Spike, January

2017

'L'exposition sibylline de Julien Bismuth', Ouest France, June 28, 2017
Ellegood, Anne, Looking Forward: Anne Ellegood. Leading curators select stand-out presentations at Frieze New York 2017, Frieze Magazine, April 21
Kimberley Bradley, « Critic's Guide : Vienna », Frieze.com, 26 September n.s.
"L'exposition sibylline de Julien Bismuth", Ouest France, 28 June

2016

Noam Segal, «Julien Bismuth» in KeenOn Magazine.com, September

2015

Sharon Mizota, 'Julien Bismuth Tinkers with the DNA of his Images at The Box', Los Angeles Times, October 16

2014

Julien Bismuth: 'An image as the ______ of a surface', Art & Design, Art in Review, by Martha Schwendener, The New York Times, January 16, print
Julien Bismuth: An image as the _____ of a surface' at Simone Subal Gallery, On View, by Andrew Russeth, The New York Observer, January 29th 2014, print
,Julien Bismuth', by Courtney Fiske, Artforum.com, January 29
,Julien Bismuth at Simone Subal', Art in America, January 30'Julien Bismuth, An image as the _____ of a surface', Time Out New York, January 23

2013

Le Signe singe, in Les inrockuptibles, n° 907, du 17 au 24 avril, p.102
Roxana Azimi, La performance, une nouvelle Experienz, in Quotidien de l'Art, n°361, 17 avril, pp. 8-9

2012

Anna Soucek, Ö1 online, May 3
Katharina Fessler, Der Standard, September 21
Silas Marti, Folha de Sao Paulo, October 2

2011

Sarah Lehrer-Graiwer, Julien Bismuth. The Golden Ass, in Art Review, n°48, mars, p. 131 (ill.)
Judith Souriau, Julien Bismuth in conversation with Judith Souriau, www.residencyunlimited.org, avril
Stefan Tasch, The Gap, Termine Galerien, April
Sarah Lehrer-Graiwer, Julien Bismuth: The Golden Ass, The Box Los Angeles, ArtReview, Febuary 22
Julien Bismuth at GAK Bremen, artnews.org, October 3

2010

Lindsay Pollock, Katya Kazakina, Bloomberg.com, Fowler's $7000 geometrics pump collectors at N.Y. Armory Show, March
Eva Komarek, Wirtschaftsblatt.at, Armory show: Am Hudson klingeln wieder die Kassen, March
Jordan Galloway, New York press, The Art! It Speaks!, February (ill.)
Willa Paskin, BlackBook, « Artists Lucas Ajemian and Julien Bismuth think it's time you redecorated your kitchen », 26 February (ill.)
Emmanuelle Lequeux, Beaux-Arts Magazine, De la performance à l'exposition, n°307, January, p. 135 (ill.)
Mathilde Villeneuve, Mouvement, Performance de la trace, January

2009

Timothée Chaillou, Technikart, Julien Bismuth / Jean-Pascal Flavien, n°hors- série Art contemporain, Autumn, p. 50 (ill.) Patrice Joly, 02 on-line, Week-end de performances à la Tate modern, February
Jen Schwarting, The Brooklyn Rail, Lucas Ajemian and Julien Bismuth: Les Lettres Tristes, February (ill.)

2008

Manisha Jothady, Die Presse, Galerien in Wien: Als die Dinge sprechen lernten, March 12

2007

Marie de Brugerolle, Flash Art, Next to performance, # 257, Nov-Dec, pp. 88-90
Roberta Smith, The New York Times, A Point in Space is a Place for an Argument, July 20
Christoph Schütte, Frankfurter Allgemeine Zeitung, Scheitern als Chance; Julien Bismuth in der Galerie Parisa Kind, June 20, p. 46

2006

Santiago Espinosa de los Monteros, Art Nexus, november ns, Made 05, The Lost Word, # 17, Feb
Léa Bismuth, www.paris-art.com, Julien Bismuth, Marchand d'oubli, 10 nov. ns, Made 05,"The Lost Word", # 17, Feb

1993

Susan Kandel, 'Taking on Beuys, Bunyan and Keaton', Art Reviews, Los Angeles Times, 25 November 2017
Publications
2022

Hiaitsiihi: architectes d'un monde invisible, written in collaboration with Marco Antonio Gonçalves, éditions b2, Paris (FR)

2021

Pulcinella Studies, The Box editions, designed by Nemuel DePaula, Los Angeles (CA)

2019

Stücke, Galerie Emanuel Layr, Vienna
Speaking and Listening, Shelter, Centre d'art la Criée, Rennes
Estructuras Vivientes, Cuenca Biennial 2018, ed. By Jesus Fuenmayor, Cuenca Biennal, Cuenca

2017

Palais Potemkine, ed. Emile Ouromov, Paris: Fondation d'entrprise Ricard

2014

Pages Deux, Éd. Motto distribution, Berlin
a cover to cover, Éd. Motto distribution, Berlin

2013

Choreographing Exhibitions, edited by Mathieu Copeland and Julie Pellegrin, Les Presses du Réel, 2013
Pages, Motto Distribution, Berlin
Julien Bismuth, A cover to cover (uncover), Motto Destribution, Berlin
Devonian Press, Musée des Abattoirs, Toulouse
Drawing by design: on a recent exhibition of works by Toba Khedoori, published by David Zwirner Gallery

2012

Playing the City: Interviews, Ed. by Matthias Ulrich, Sternbergpress 2012
"I was a male Yvonne de Carlo," exhibition catalog, edited by Marie de Brugerolles and Dora Garcia, MUSAC, Léon, Spain
XOXO, Sabine Müller (Ed.), Royal Collage of Art, London
Fragmentation 04, Artist's book insert, curated by Necmi Sönmez, edited by Mine Haydaroğ lu, published in Sanat Dünyamiz, Issue 131
The Circus as Parallel Universe, exhibition catalog, Kunsthalle Wien, Vienna

2010

Monsieur Miroir, 12e Prix Fondation d'entreprise Ricard, commissaire: Émilie Renard, Editions Fondation d'entreprise Ricard, Paris
Une Forme pour toute action, Le Printemps de Septembre Toulouse, France
Ne pas jouer avec des choses mortes, catalogue d'exposition, Villa Arson, Nice, Ed. Les Presses du réel
Julien Bismuth, a conversation with Sophie Kaplan, Journal de l'exposition
Mind The Gap, CRAC Alsace, Altkirch, France

2008

Comme des bêtes, Musée cantonal des Beaux-Arts, Lausanne, 5 Continents Editions, Milan

2004

Nuit Blanche 2004, (textes) Ami Barak et Fanny Etienne, éd. Paris Musées, pp. 26, 60
Articles by the Artist
2020

"The Habit of Error", Spike, septembre
"Pantanal", Spike, septembre
"Pulcinella", The Art Newspaper (Ed. française), juillet
"The language forest", Purple Magazine, Issue 33

2016

« Christian Scheidemann », Memoire Universelle, Éd. Béatrice Grosse et Benoît Bethune 2015
The real world of hoists and holes, Jason Rhodes: PeaRoeFarm cat. Exh.., David Zwirner Gallery, New York

2015

Jason Rhoades, 'PeaRoeFoam', Published by David Zwirner, New York
'Gus the polar bear', Memoire Universelle, edited by Béatrice Grosse and Benoît Bethune

2013

Toba Khedoori, Published by David Zwirner, Radius Books, New York
Playing the City: Interviews, Ed. Matthias Ulrich, Berlin
Choreography Exhibitions, Matthieu Copeland et Julie Pellegrin, Ed. Les Presses du Réel, Paris

2012

Artist's Annual, « Toba Khedoori », « Tony Conrad », « Matt Mullican», Paris
Drawing by design: on a recent exhibition of works by Toba Khedoori, Toba Khedoori, David Zwirner Gallery

2010

The error in the landscape, Devonian Press
Portrait de l'artiste en jeune objet, in cat. exp. Ne pas jouer avec des choses mortes,Villa Arson, Nice, Ed. Les Presses du réel, pp. 92-94

2008

Monologues for Minerals, Devonian Press, Rio de Janeiro
L'Éléphant de Troie, in cat. exp. Virginie Yassef. La seconde est partie la première, Ed. Jeu de Paume, Paris, pp. 41-49

2006

Mike Bouchet : Celebrity Artist, Der Soziographische Blick, Kunstraum, Innsbruck, Innsbruck
« … », Devonian Press, Rio de Janeiro
Christopher Williams : Eighteen Lessons., Parachute, Vol. 120, printemps
Staged Cryptographies, Guy de Cointet : a retrospective, Ed. Marie de Brugerolle. Presses du Réel, Dijon
Starts and Stops (en collaboration avec Jean-Pascal Flavien), Devonian Press, Rio de Janeiro
No Drama House (en collaboration avec Jean-Pascal Flavien), Devonian Press, Rio de Janeiro
Announcement (en collaboration avec Jean-Pascal Flavien et Giancarlo Vulcano), Devonian Press, Rio de Janeiro
Flotsam and Jetsam. Devonian Press, Rio de Janeiro

2005

John Baldessari, Beaux-Arts Magazine, no. 256, octobre
The Paintings of Richard Jackson, Richard Jackson, Nye House Editions, New York
Steve Mc Queen, Parachute, vol. 119, automne
A Hold!, Devonian Press, Rio de JaneiroThe world before time, (en collaboration avec Jean-Pascal Flavien), Devonian Press, Rio de Janeiro
The time before the world (en collaboration avec Jean-Pascal Flavien), Devonian Press, Rio de Janeiro

2004

Untitled (Five Easy Pieces), catalogue, Palme D'Or, New York
Who's that Guy?, Parachute, vol. 117, automne

2003

Tract, revista MU, vol.5
Buoy Script, Third Street, vol.10
The Interrupted Hunt : Dante's On the Eloquence of the Vernacular », Ampersand vol. 1

2001

Costner Complex, in Costner Complex: an exhibition by Jason Rhoades, Portikus, Frankfurt