An der Hülben
Howl
Franz Amann
March 20 – April 25, 2015
Franz Amann
Mundaka, 2015
Photograph, found frame
24.5 × 16.5 cm
Franz Amann
Howl, 2015
Installation view
Layr An der Hülben, Vienna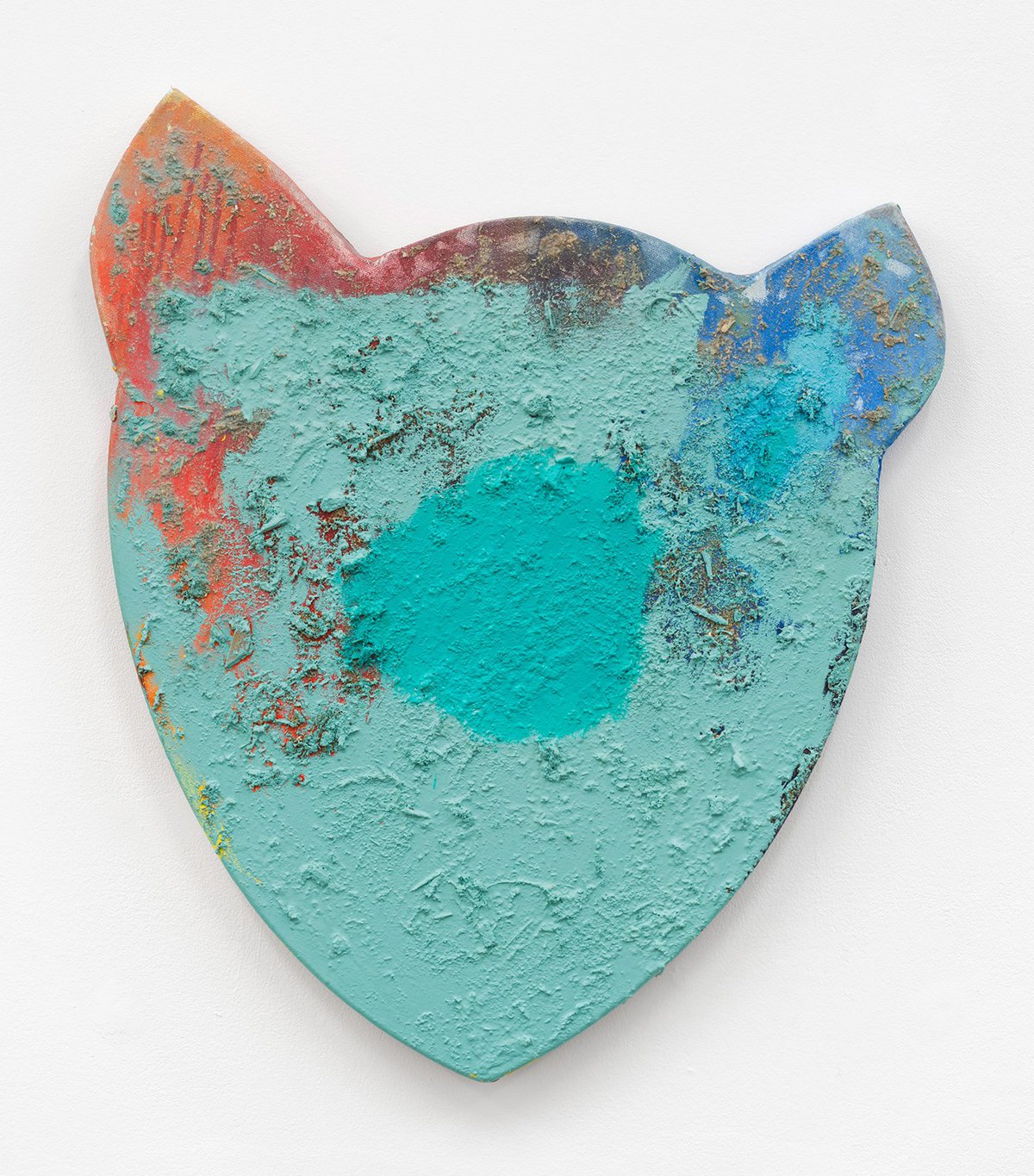 Franz Amann
No.1, 2014
Oil, sawdust and glue on shaped canvas
88 × 74 × 5 cm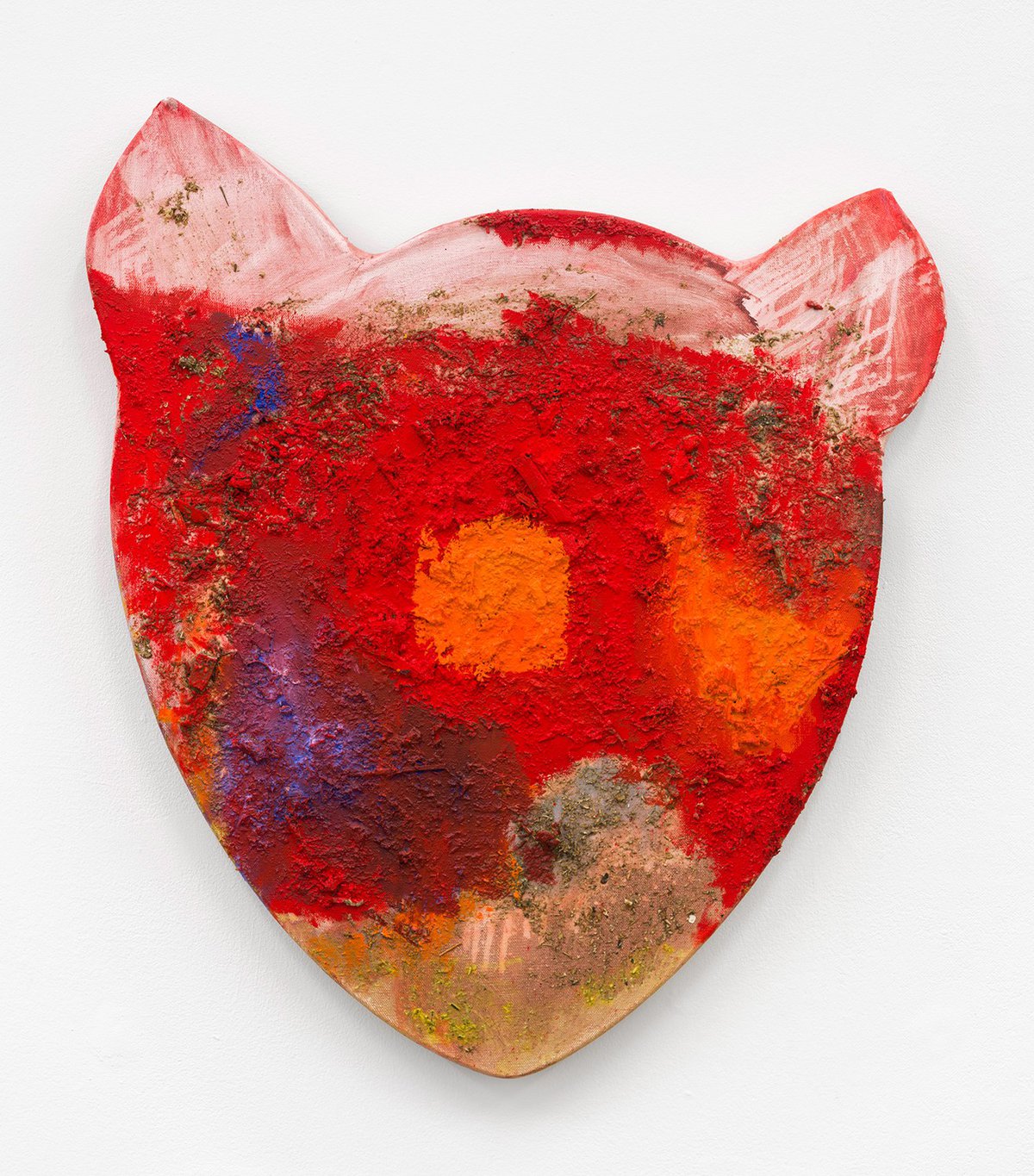 Franz Amann
No.2, 2014
Oil, sawdust and glue on shaped canvas
88 × 74 × 5 cm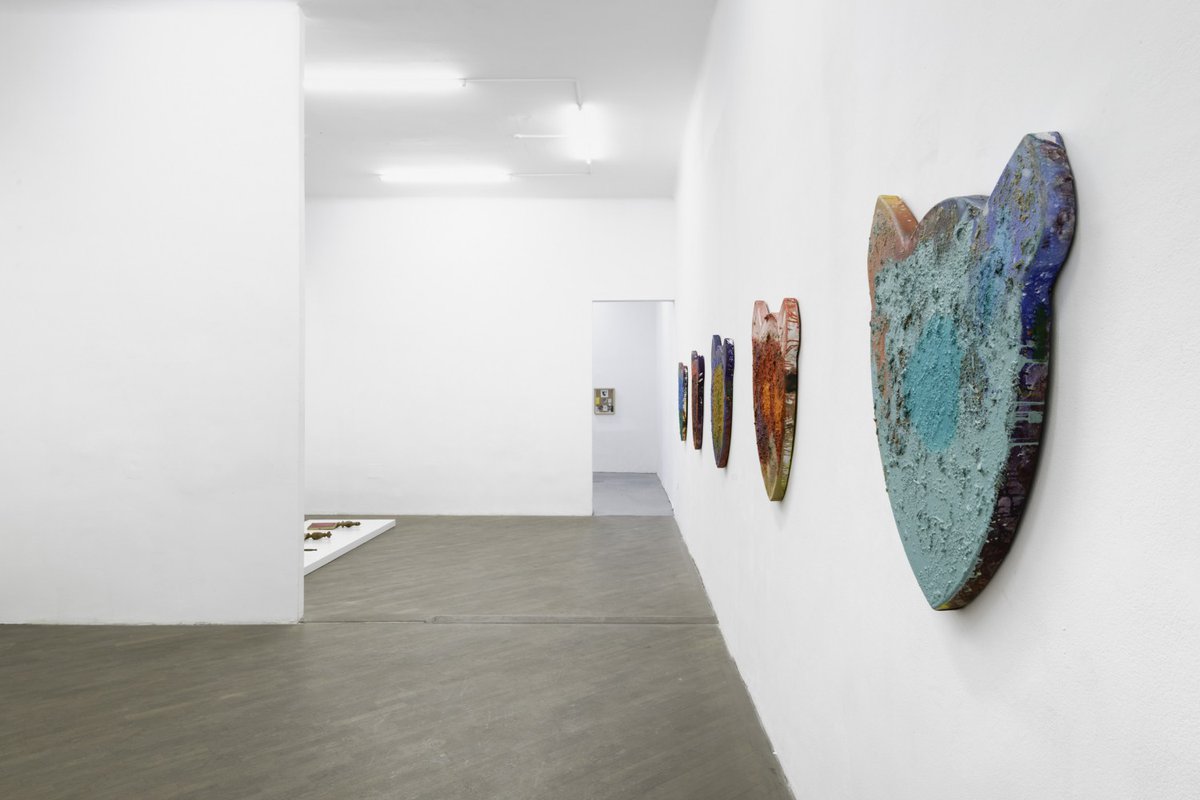 Franz Amann
Howl, 2015
Installation view
Layr An der Hülben, Vienna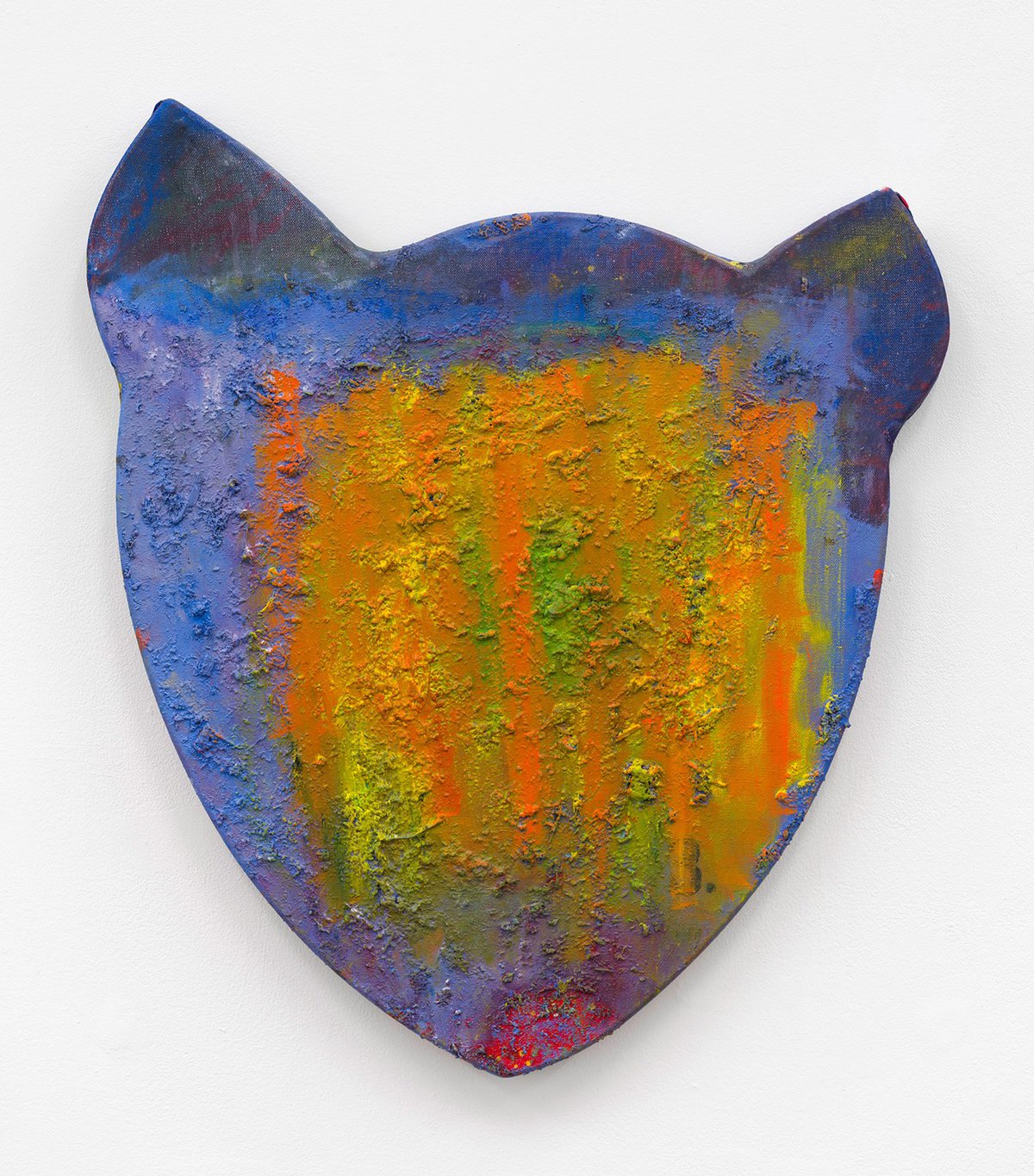 Franz Amann
No.3, 2014
Oil, sawdust and glue on shaped canvas
88 × 74 × 5 cm
Franz Amann
No.4, 2014
Oil, sawdust and glue on shaped canvas
88 × 74 × 5 cm
Franz Amann
No.5, 2014
Oil, sawdust and glue on shaped canvas
88 × 74 × 5 cm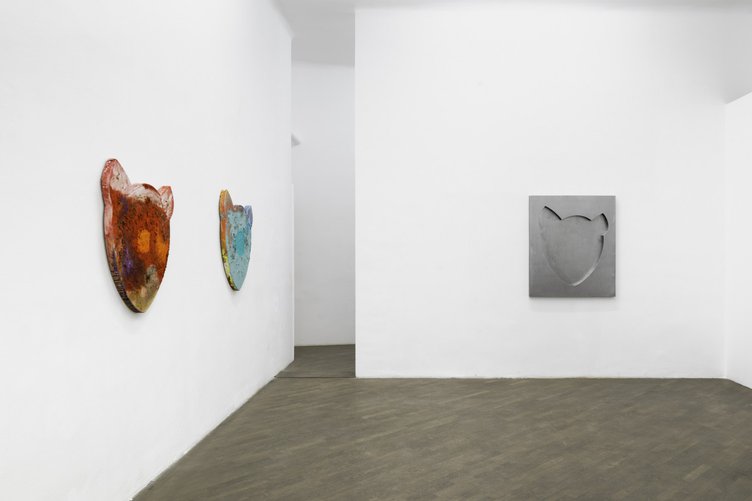 Franz Amann
Howl, 2015
Installation view
Layr An der Hülben, Vienna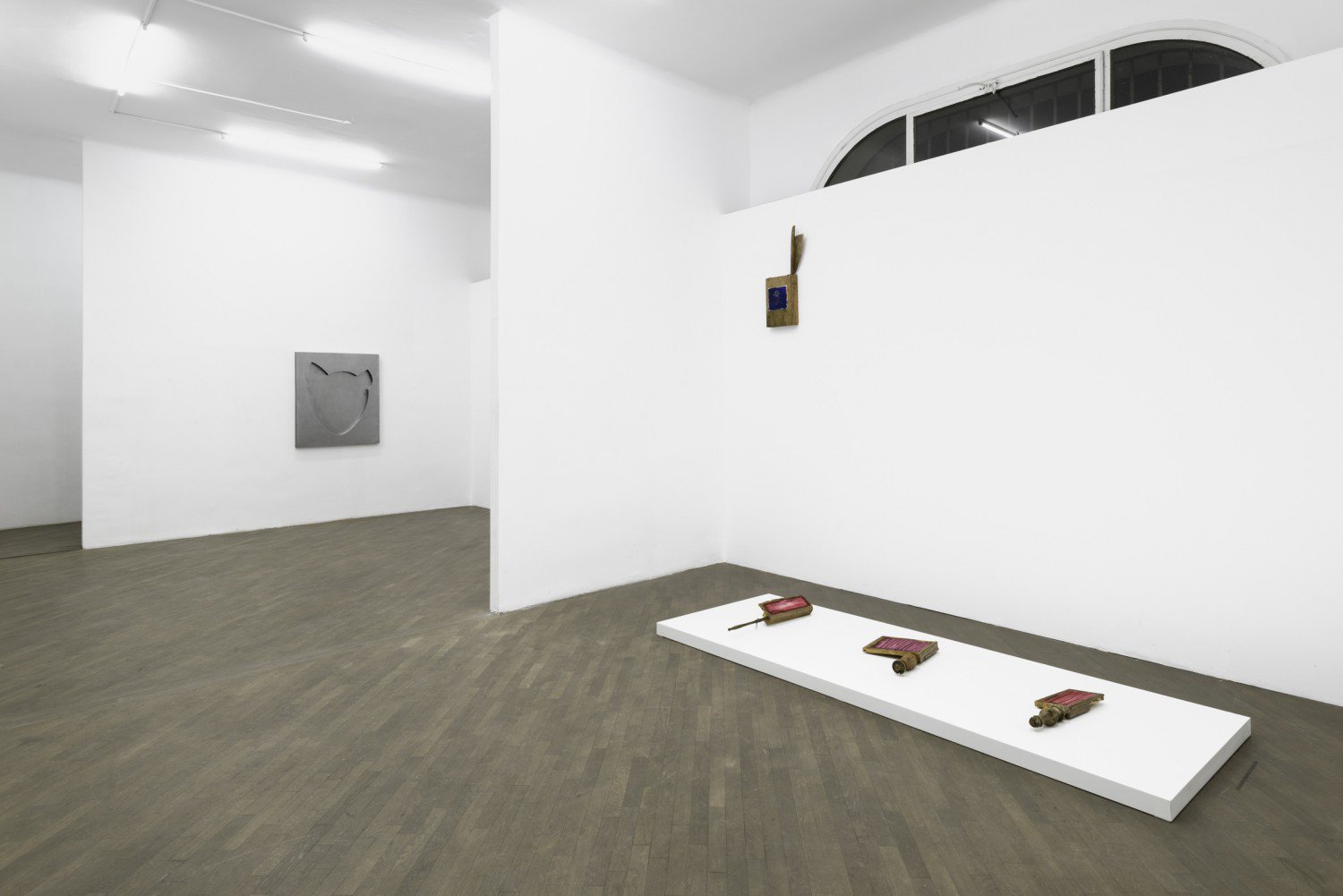 Franz Amann
Howl, 2015
Installation view
Layr An der Hülben, Vienna
Franz Amann
Howl, 2015
Installation view
Layr An der Hülben, Vienna
Franz Amann
No.0, 2015
Welded steel
110 × 93.5 × 5.5 cm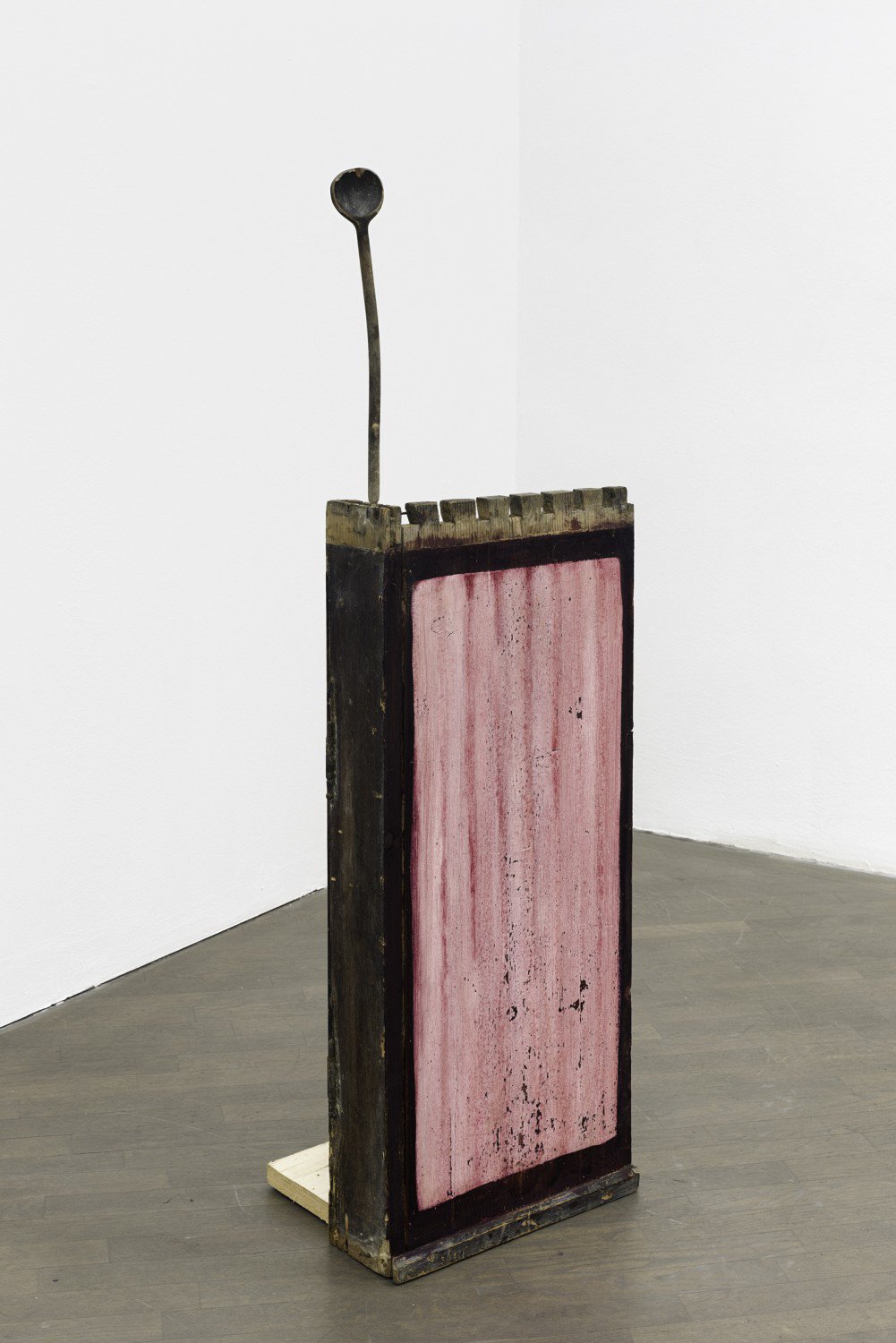 Franz Amann
Shelfie, 2015
Oil on wood
128.5 × 39 × 30 cm
Franz Amann
Das Hübscherl (Portrait of the artist as a handsome fellow), 2015
Oil on wood
78 × 36 × 7 cm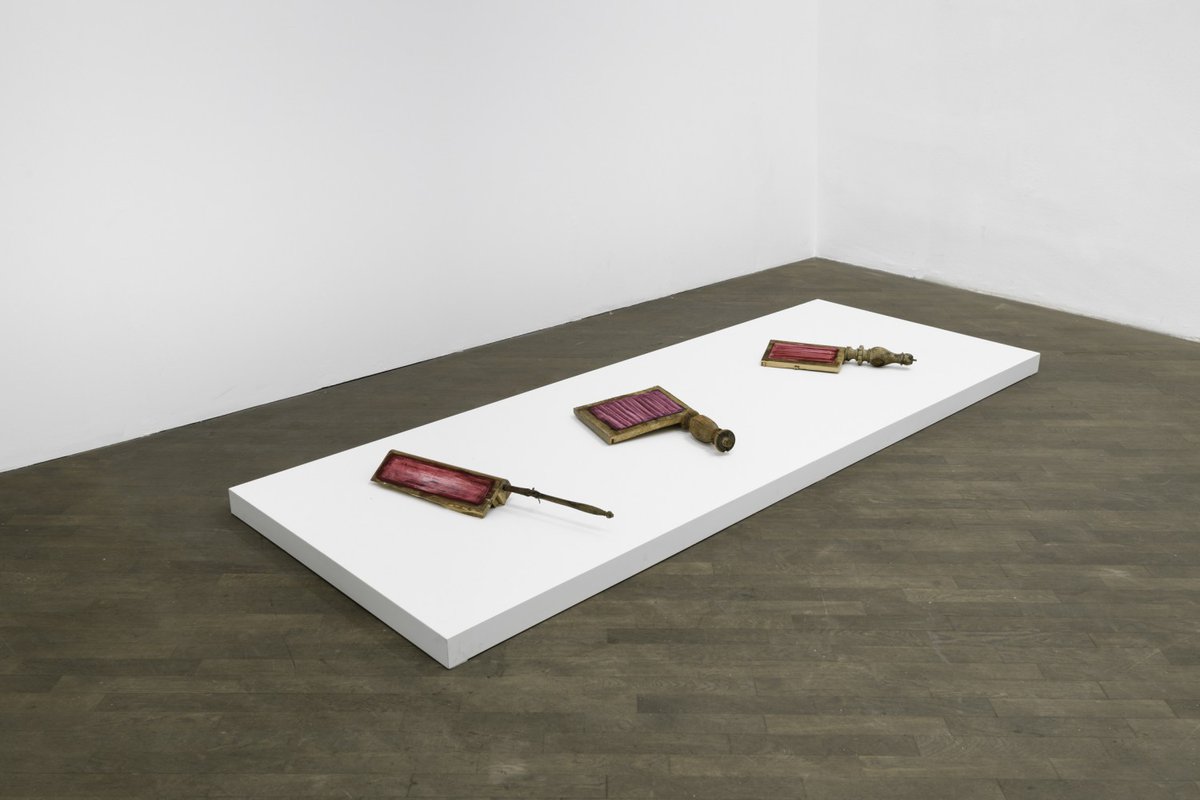 Franz Amann
Howl, 2015
Installation view
Layr An der Hülben, Vienna
Franz Amann
Selfie 3, 2014
Oil on wood
73 × 13 × 6.5 cm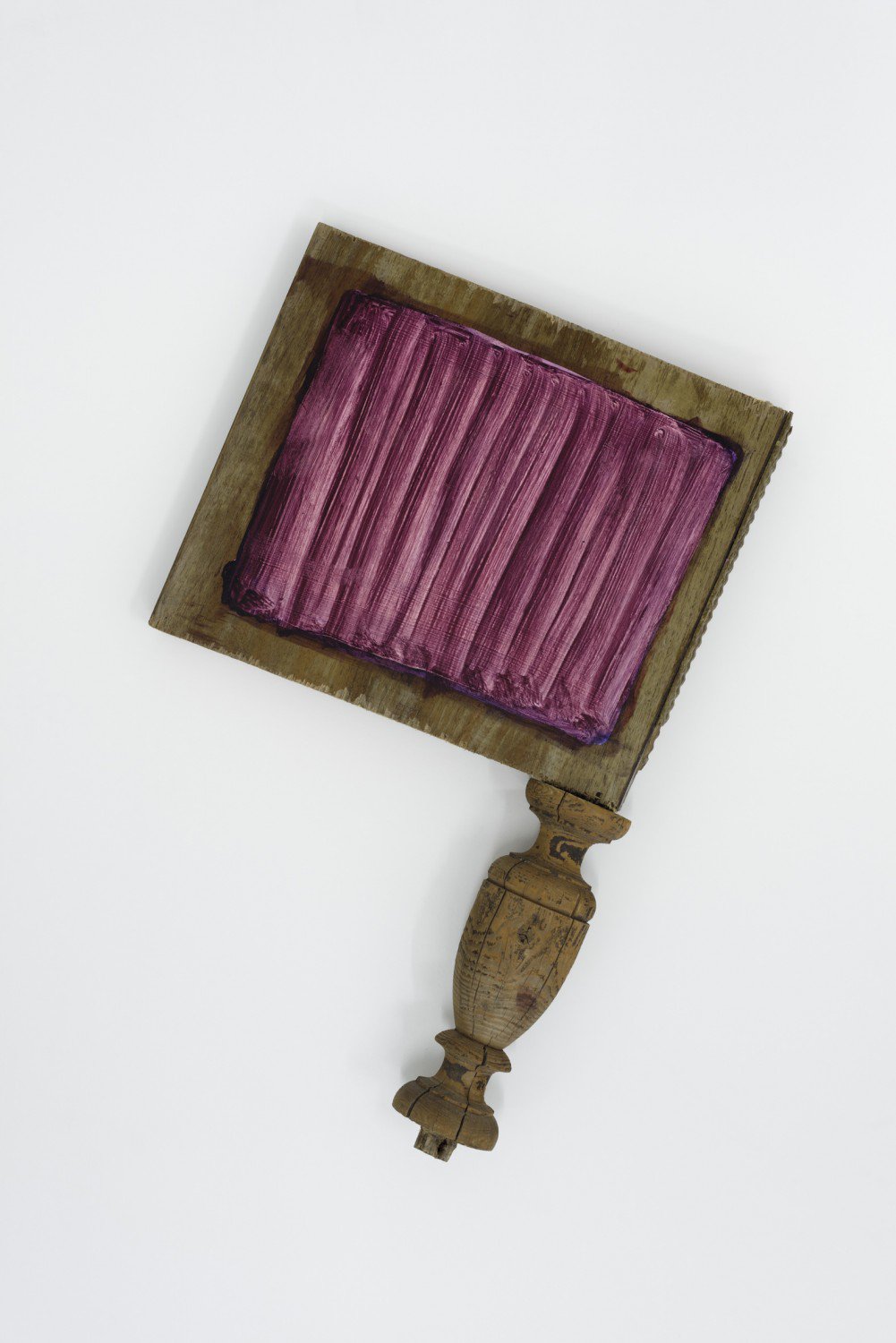 Franz Amann
Selfie 2, 2014
Oil on wood
49 × 32 × 7 cm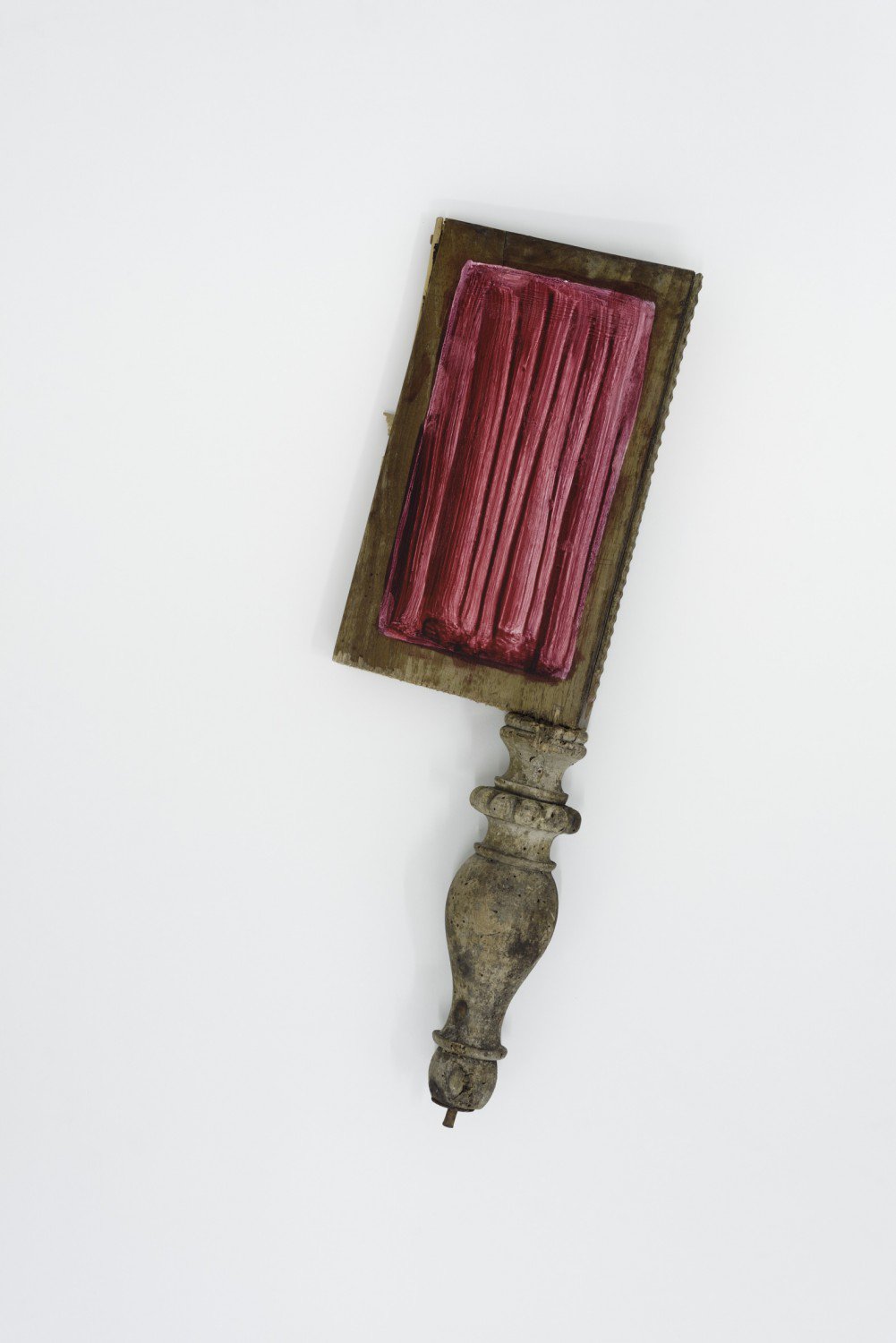 Franz Amann
Selfie 1, 2014
Oil on wood
53 × 18 × 7 cm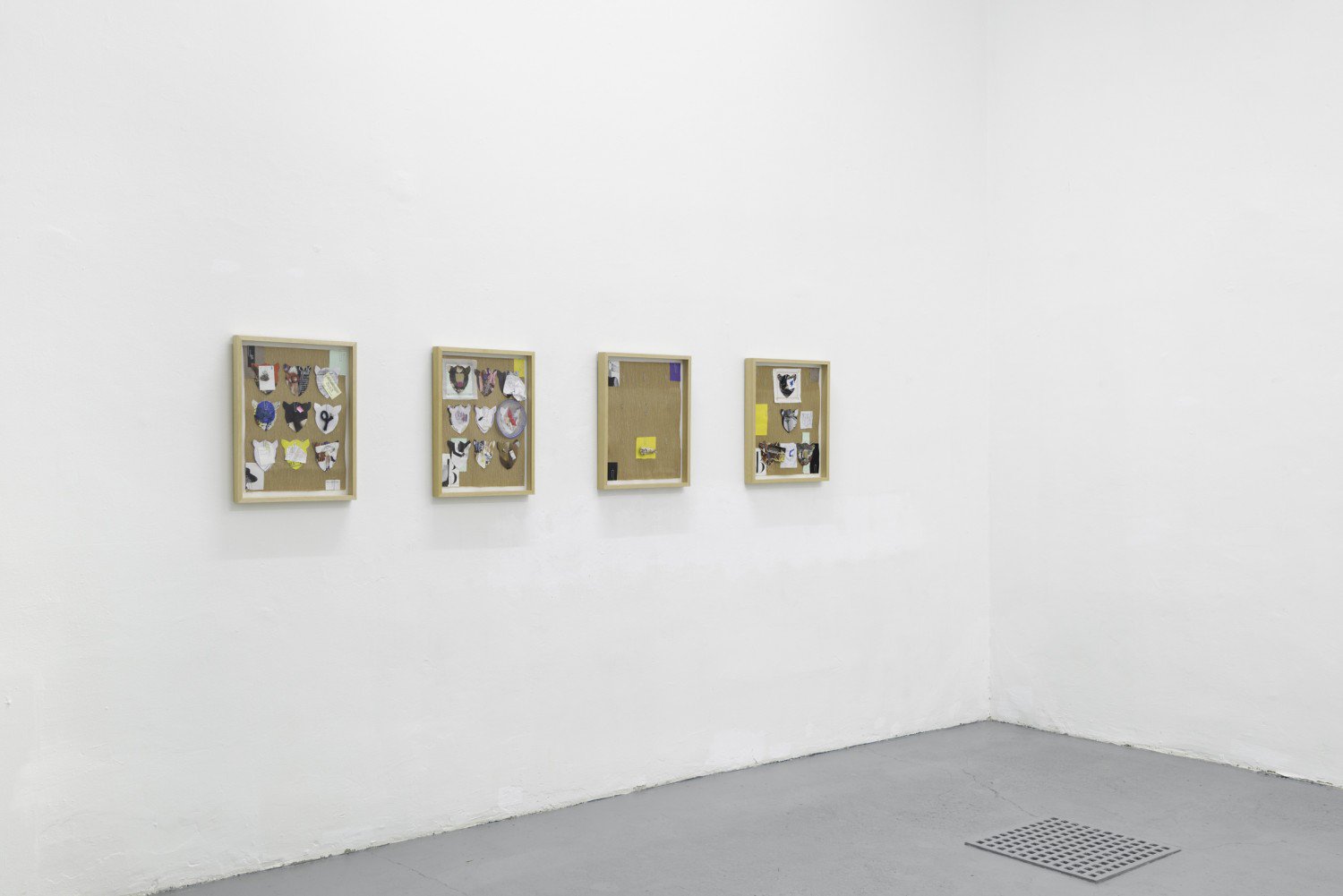 Franz Amann
Howl, 2015
Installation view
Layr An der Hülben, Vienna
Franz Amann
La Concha Balenciaga (Re-arranged by J.Hubert) 1, 2015
Collage
50 × 45 × 4 cm
Franz Amann
La Concha Balenciaga 3, 2015
Collage
50 × 45 × 4 cm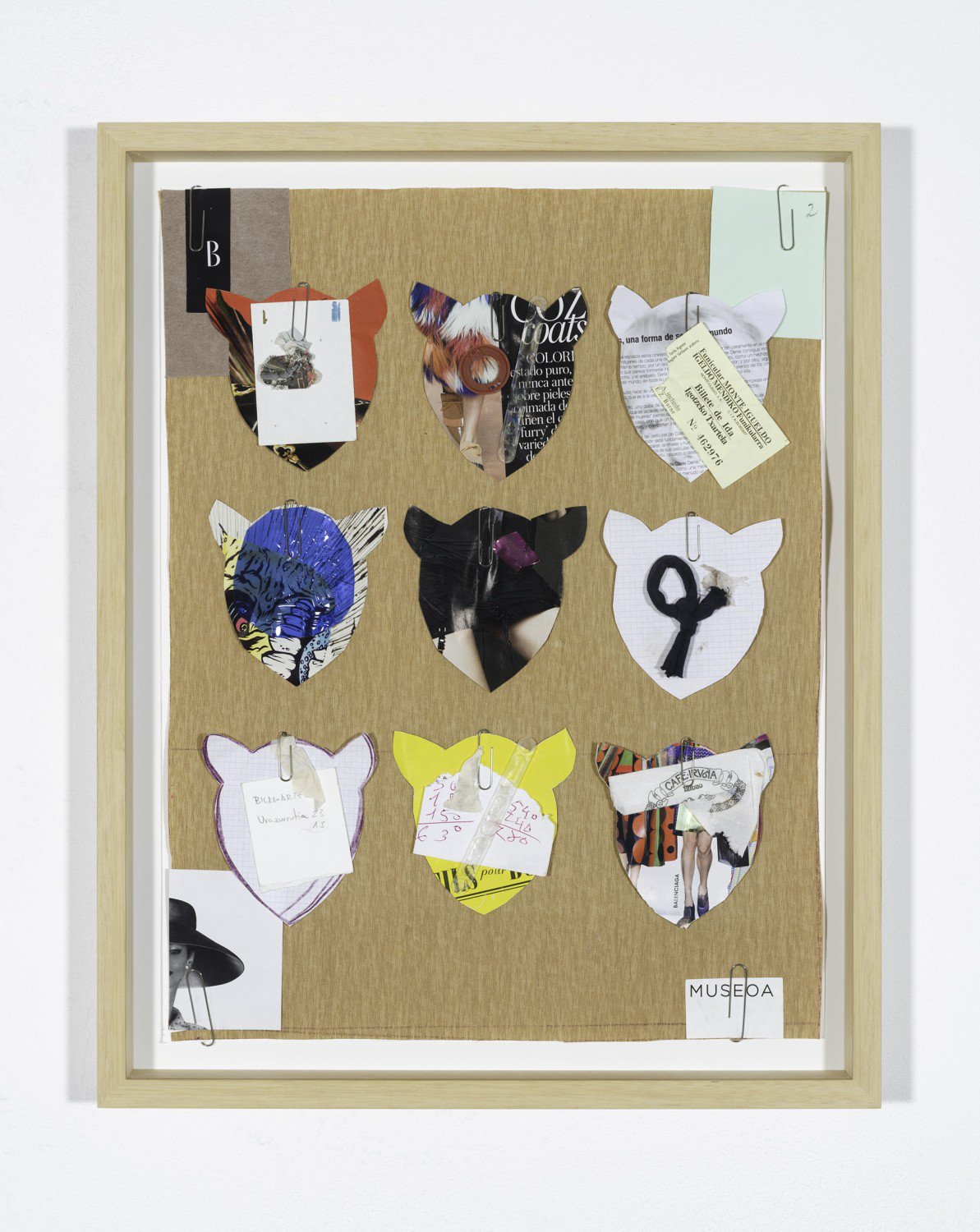 Franz Amann
La Concha Balenciaga 2, 2015
Collage
50 × 45 × 4 cm
Franz Amann
La Concha Balenciaga 4, 2015
Collage
50 × 45 × 4 cm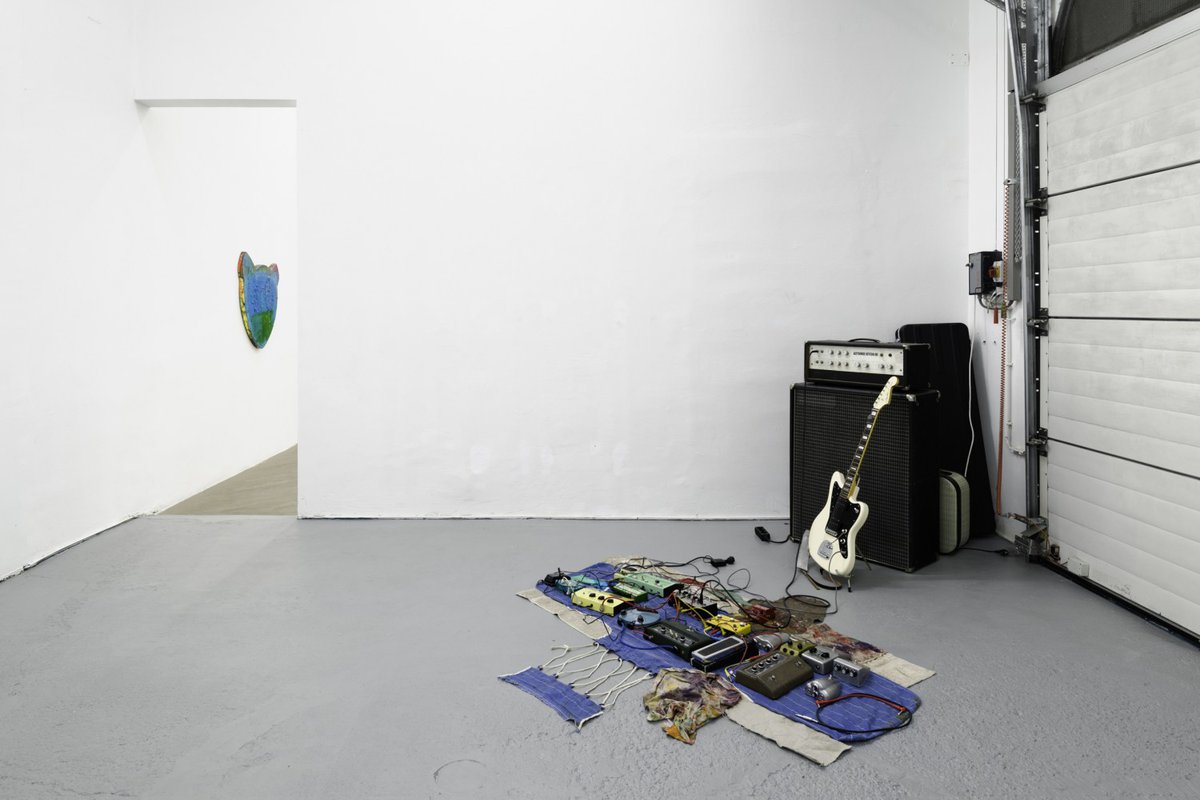 Franz Amann
Howl, 2015
Installation view
Layr An der Hülben, Vienna
Franz Amann
Blue Carpet (Das letzte Hemd), 2015
Oil on textiles
183 × 175 cm
Franz Amann ist ein Zustand in der Welt
Wenn Franz Amanns Werke eine Gesellschaft sind, und wer würde das bestreiten, um welche Art von Gesellschaft handelt es sich? Und für uns Eingeladene wichtiger noch: wie nimmt man daran Teil? Es muss sich um eine gro.zügige Gesellschaft handeln denn sie mutet mir zu, im Namen dieser Werke zu sprechen, ihnen gerecht zu werden – mehr noch zu sprechen im Namen der kleinsten Teile, im Namen des Materials.
Mit den Werken No.1 bis No.5 richtet Franz Amann seiner Art von Malerei ein Fest aus, maßgeschneidert für den nicht nur halluzinierten Körper seiner Unbeirrbarkeit. Mit Wucht und Verve müssen diese Werke entstanden sein, muss in deren Mitte der Maler selbst wiedermal erstanden sein – auf allen vieren, halb gebückt, aufrecht manchmal schwebend leicht. Material zum Sprechen bringen, versuchen Sie es: es gilt eine Mischung aus passivem Zulassen und impulsiv wendigem Agieren zu finden. Beizeiten gilt es sich auf die Couch zu legen und zu warten. So ereignen sich nebeneinander und zugleich die Erfahrungen des Groben und Verworrenen und aber auch des Klaren, Nächsten und Vertrauten. Man spricht von äußeren wie inneren Vorgängen und meint das bloße Material das nur hier – im Versuch darüber zu schreiben – in Ideen gepresst wird, Begriffe gepresst wird: Intimität, Exotik, Geheul. Franz Amann lehrt uns die beizeiten Angemessenheit einer Furchtlosigkeit. Bei Zeiten wie diesen, so sage ich mir.
Und so lass ich mich erheben zur Instanz, ein hartnäckiges Drängen – und schreibe wie sehr ich staune angesichts der Erweiterung dieser ansteckenden Malereien: eine Art Negativ-Form aus Metall löst Gedankensprünge, Verwirrung und erheiternde Unterstellungen aus. Ist es die Form an sich? Die Idee oder das Wesen dessen was man bei Amann wohl die Signatur nennen sollte? Ist es der Charakter, die Natur oder einfach: das Ding? Ich spüre eine Gelassenheit, eine ausbalancierte Mitte und eine Art Gleichgültigkeit, vermeintliche Abwesenheit von…Impuls, Gebrüll, Heulen. Ist sie hier tatsächlich geäußert: die Idee als singuläre Erscheinung? Ich zweifle und sehe: rohes Material. Ein Idol? Das Metallteil heisst: No.0(In Worten: Null) und wird dadurch angehängt an die Reihe der Werke No.1 bis No.5. Es gilt also wohl auch hier wie dort zu sehen: die Wirkung der Lebendigkeit, Hitzigkeit und Dichte, das Strahlen und auch die Erdigkeit der Amann'schen Malerei. Verzerrungen, Übersteuerungen, beizeiten Kurzschlüsse – als säßen wir gemeinsam alle in einer Fähre am Bosporus und starrten an die Decke und sähen: ins Auge der Welt, einer geborgten Welt in einer geborgten Zeit in unserem geborgten Körper der zittert wie ein lauerndes Tier. Und was hier abfällt noch, blasser werdend, das Wort: Mensch. Insan. Geborgt.
Ich unterdrücke meine Fantasien, den Terror mysteriöser Sehnsüchte, irgendwer hatte gemeint im Falle einer solchen Unterdrückung bleiben Worte – Worte wie Symptome. Gustave Flaubert hatte in einem Brief die Befürchtung geschrieben, das Symptom also geschrieben:
Zu denken (…) daß ich vielleicht niemals in den Wäldern die Augen eines Tigers werde leuchten sehen, der im Bambus kauert.
Thomas Mann übernimmt diese Ahnung, diese Fantasie und lässt sie seinen Helden Aschenbach halluzinieren – lässt ihn damit und dadurch aufbrechen seinen Sehnsüchten zu folgen und seinen Tod in Venedig finden. Howl nennt Franz Amann diese seine aktuelle Ausstellung, in dem Fall ist der Name ein Geräusch. Wenn Amanns Kunst archaisch ist, dann offenbart sie, dass Ursprung im Heute zu suchen ist, mehr als in der Vergangenheit (entspannen Sie sich: das Morgen weiß nicht mal, dass sie da sind). Zwischen den eine Gesellschaft ausmachenden Individuen gilt es den Raum so zu bevölkern, dass Versuche ausgehalten werden all unsere überbordenden Fantasien nicht mit Gewalt zu befrieden. Lassen wir einander unbeschadet aber nicht unberührt. Ich sehe Tiergesichter ich sehe Klauen und Schalentiere die ihren Panzer ablegen um sich zu paaren. Höre Idole. Wie gelingt es die Finger frei zu bekommen – auf allen vieren? Genug. Ich sehe Sonni Blechdach auf einem blauen Teppich, der wirds euch zeigen. Ich ziehe mich zurück in die glorreiche Wildnis unserer schlammigen Wirklichkeit. Hör ich jemand brüchig sagen? Pathologisch? Danke Franz!
Von hier aus überlasse ich es Ihnen, Teil dieser sich äußernden Gesellschaft zu sein. Die Anekdote vom Erreichen einer Verabredung durch Morast und Unterholz in einer sternenlosen Nacht, man sah die Hand nicht vor dem Gesicht, lassen sie sich vom Künstler selbst erzählen. Zählen sie Gesichter! Betrachten sie sich gesellig! In einem von Franz Ammanns wunderbaren Selfies. In dem Fall: erlauben Sie sich ein lautes Gebrüll – den letzten Heuler, so sehr wie ich ermutigt mir erlaubte auch in meinem Namen zu schreiben.
Misha Stroj
Franz Amann is a state of the world
If Franz Amann's works were a community, and who would dispute that, then what kind of community would they be? And more importantly for us visitors, how would we participate? It would have to be a generous community, because it asks me to speak for these works, to do them justice – and to speak for even the smallest components, on behalf of the materials.
Franz Amann's manner of painting in works No.1 to No.5serves up a feast, customised for the not-just-hallucinated body of his steadfastness. They must have sprouted up with great force and verve, these works. They must have sprouted up in the core of the painter himself – on all fours, hunched over, erect, at times bobbing slightly. To get material to speak, try it yourselves: it's about finding a balance between passively allowing it to happen, and acting with impulsive agility. Reclining on the couch sometimes, and waiting. This way the experiences of the coarse and the convoluted, but also the clear, the upcoming and the familiar can emerge, parallel and simultaneous. We speak of external and internal processes, referring to the pure material, which – in the attempt of writing about it – is expressed only through concepts, through terms: intimacy, exoticism, howling. Franz Amann teaches us that at certain times fearlessness is appropriate. In times like these, I tell myself.
And so I let a stubborn insistence in me rise to the occasion, and write about my amazement in the face of these far-reaching and contagious paintings: a negative form in metal sets off mental leaps, bewilderment and lighthearted innuendo. Is it the form itself? The idea, or the essence that one might call signature Amann. Is it character, nature or simply: the thing? I sense a calmess, a balanced centre and a kind of indifference, an apparent absence of a pulse, roar, or howl. Is it even expressed here, this idea, in a singular occurrence? I'm doubtful and I see: raw material. An idol? The metal piece is titled No.0 (literally zero) and is thus included in the series of works No.1 toNo.5. Here too you can see the impact of vitality, heat, density, the rays and the earthiness of Amannesque painting. Distortion, overmodulation, at times short circuiting – as though we are all sitting together on a ferry on the Bosphorous, staring at the ceiling and gazing into the eye of the world, and seeing a borrowed world in borrowed time in our borrowed body that's trembling like a prowling animal. And what falls away, faded, is the word: Human. Insan. Borrowed.
I suppress my fantasies, the terror of mysterious desires, someone said that in such cases of suppression, words remain – words as symptoms. Gustave Flaubert wrote a letter to fear, the symptom: To think (…) that I may never see the glowing eyes of a tiger crouching among the bamboo.
Thomas Mann takes on this idea or fantasy in order to hallucinate up his hero Aschenbach – uses it to break through and follow his desires and find his Death in Venice. Howl is the title Franz Amann has given this current exhibition, and in this case the name is a sound. If Amann's art is archaic, it reveals that origin is to be found in the present, more than the past (relax: tomorrow doesn't even know you exist.) The space between the individuals making up a community needs to be filled in such a way that the efforts to manage all our exuberant fantasies do not result in violence. Let us remain unprejudiced but not unaffected. I see animal faces, I see claws, I see shellfish taking off their armor to mate. I hear idols. How can one get their hands free – on all fours? Enough. I see Sonni Blechdach on a blue carpet, he'll show you. I retreat into the glorious wilderness of our muddy reality. Do I hear someone mumble? Pathological? Thank you Franz!
From here I leave it to you to join this self-expressive community. For the anecdote about traversing bog and undergrowth on a starless night so dark you can't see your own hand before your face to make the appointment… ask the artist to tell you himself. Count faces! Consider yourself social! In one of Franz's wonderful Selfies. In this case allow yourselves a loud roar – the last howler. It encouraged me so, even to write this in my own name.
Misha Stroj